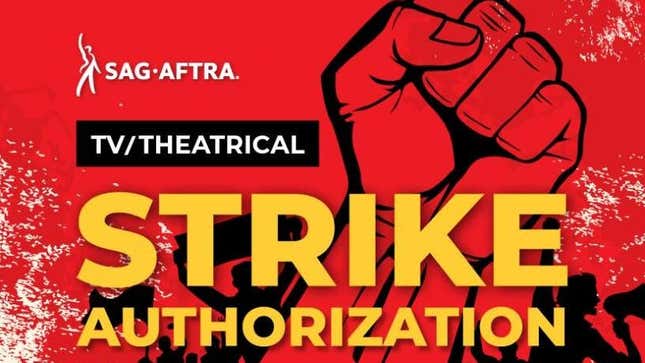 It's setting up to be a slow year for Hollywood productions. Leadership for SAG-AFTRA, the national guild for screen actors, unanimously voted to send a strike authorization vote to its members. The guild represents over 160,000 entertainment and media professionals, and all of them now have an email in their inboxes: do they support a strike?

The Boogeyman's Sophie Thatcher Reveals What Draws Her to Dark Characters | io9 Interview
Over the past year entertainment unions have had overwhelming strike support during the lead up to contract negotiations. From writers to podcasters to journalists, unions are providing support and strength during contract negotiations. And as the SAG-AFTRA contract approaches its expiration on June 30th at midnight, the guild wants to have a strike authorization from its members on the negotiation table.
"Strike authorization sends an important message during the negotiations process. A 'yes' vote gives the National Board the power to call a strike if the AMPTP does not negotiate fairly in our upcoming bargaining," explained SAG-AFTRA National Executive Director and Chief Negotiator Duncan Crabtree-Ireland in the announcement. "This will be a seminal negotiation that will determine the future of what it means to be a working performer. We must be ready to fight to secure a meaningful deal for our members."
Much like screenwriters, very few actors make the kind of money that makes headlines. The biggest earners in SAG-AFTRA might make millions of dollars for a single movie, but most actors—even those acting in massive TV productions don't have the kind of security they used to—no residuals for writers means no residuals for actors too. Remember when Sydney Sweeney, one of the lead actors in HBO's massive hit series Euphoria, told The Hollywood Reporter that she wouldn't be able to take a six month break on her income?
"They don't pay actors like they used to, and with streamers, you no longer get residuals. The established stars still get paid, but I have to give 5 percent to my lawyer, 10 percent to my agents, 3 percent or something like that to my business manager," Sweeney listed in the interview. "I have to pay my publicist every month, and that's more than my mortgage." She made the decision to pick up brand deals because, "If I just acted, I wouldn't be able to afford my life in L.A. I take deals because I have to."
Kelly Lynne D'Angelo, a writer and professional Dungeons & Dragons dungeon master, shared an anecdote on Twitter. One of her friends was the lead in a $23 million dollar Super Bowl commercial. He made $500.
Many productions have attempted to continue work despite the fact that writers are not working and showrunners are asked by the WGA to not perform a through h duties (script and writing adjustments in post production, often key to connecting scenes or cutting scenes). With a SAG strike on the horizon, even distantly, the AMPTP could feel pressure to negotiate fairly with both guilds. If SAG gets a fair deal while the WGA continues to be treated dismissively, it could be extremely bad news for the AMPTP, as SAG-AFTRA stands in solidarity with the WGA and many actors have shown up at WGA picket lines in support.
"For the first time in a very long time, our member leadership stands in solidarity at the negotiating committee and the National Board levels on moving forward with a strike authorization," said SAG-AFTRA President Fran Drescher. "I implore eligible members to follow the leads of both the negotiating committee and the National Board with an unprecedented show of solidarity and make three a charm with an emphatic 'yes' for a strike authorization vote!"
---
Want more io9 news? Check out when to expect the latest Marvel, Star Wars, and Star Trek releases, what's next for the DC Universe on film and TV, and everything you need to know about the future of Doctor Who.