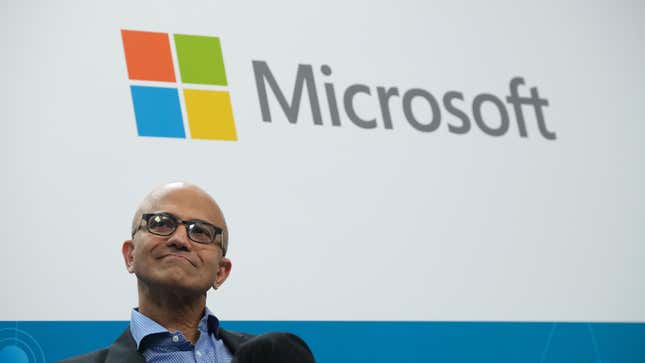 Microsoft has decided to cut raises for full-time staff this year, citing that hackneyed refrain: "tumultuous economic conditions."

Google's Antitrust Case Is the Best Thing That Ever Happened to AI
News of Microsoft's decision was relayed to managers in an email from CEO Satya Nadella, whose yearly salary ballooned by 10% to $55 million last year, this morning, Insider reports. According to the email, Nadella informed managers that raises would not be granted to full-time employees this year, but hourly employees are still eligible to receive increased compensation. Likewise, the CEO wrote that while bonuses and stock awards are still on the table, they will not be "overfunded," and employees will still be able to pursue promotions within the company. 
"As a senior leadership team, we don't take this decision lightly having considered it over several months, and believe it is necessary to prepare the company for long term success," Nadella wrote in the email, as quoted in Insider. "While we will have salary increases for certain hourly or equivalent roles, we will not have salary increases for full-time salaried employees this year."
Microsoft Chief People Officer Kathleen Hogan sent a similar email this morning to managers, writing that "fewer employees will be able to receive exceptional rewards," further indicating that bonuses will be trimmed this year. This time last year, Microsoft was touting hefty raises and rewards for its staff as an internal poll revealed that only 66% of surveyed staff were happy with their time at Microsoft. As Insider points out, the typical Microsoft annual review cycle begins with performance reviews in April with notification of bonuses and potential raises in August.
Microsoft's decision to axe full-time employee raises this year is just another sign that the company has some trouble balancing its checkbooks. This January, Microsoft chose to lay off over 10,000 employees the day after hosting a Sting concert for company executives at Davos. Likewise, the company opted to invest $10 billion into a deal with OpenAI, the company behind the ever-popular AI chatbot ChatGPT.