With the price boom of 2017 and the constant chatter about the blockchain revolution, it feels like people have forgotten the one thing bitcoin is proven to be good for: buying drugs. On Thursday, law enforcement gave everyone a reminder of cryptocurrencies roots when it took down an LSD ring and seized millions of dollars worth of digital cash.
A statement by Europol claims that it recently worked alongside the Spanish Guardia Civil and the Austrian Federal Police to dismantle a criminal group that has been trafficking in the sale of synthetic drugs on the dark web since 2012. The operation had quite a haul—shuttering two drug labs, nabbing eight individuals, and impounding what Europol claims is a record-setting 800,000 doses of LSD.
The full statement is a bit confusing when it comes to the cryptocurrency seizure. It lists bitcoin, IOTA, and lumen tokens that were impounded, pegging their combined value at €5,675,000 ($6,623,366). But elsewhere in the report, it lists the total value of the digital currencies as €4.5 million ($5.25 million). At first, it seemed that the confusion might have come from the ever-volatile crypto exchange rates, but its impossible to say because only the number of bitcoins seized (510) is listed.
In fact, there's quite a bit of detail missing from this report. For instance, eight suspects are said to be in custody and they're listed as being from Spain, Austria, and France. But none of the suspects are named. It also says that two synthetic drug labs were dismantled, but when the agency described the group's operation it listed three labs. From the statement:

The organised crime group had been operating in Spain since 2012 and imported the raw material to make the psychoactive substances from Asian countries, mainly China. The organisation installed a laboratory in Amsterdam, which served as the production unit of the synthetic drugs. From this laboratory the narcotic substances were shipped to two other laboratories in Spain (Granada and Valencia), which were directly managed by the organisation and where the drugs were packaged and distributed to the final consumer.
G/O Media may get a commission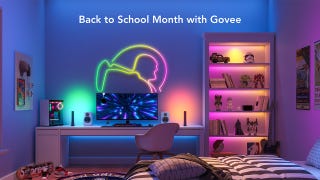 Back to School
Back to School Month with Govee Sale
We've reached out to Europol with clarifying questions and asked if it could provide us with a more detailed itemized list of what (and who), exactly, it seized in its operation. We also specifically asked what the models were of the "ten luxury vehicles" it impounded. Bitcoiners love their Lambos and we need to know.
Along with the huge amount of acid that was found, the agency said the labs were being used to produce more than 100 different types of new psychoactive substances. Through two invite-only webpages, the organization allegedly sold its goods on the dark web to customers in more than 100 countries and handled delivery through standard postal operations.
It's not a great time to be a dark web drug vendor. Encryption tools regularly prove themselves to be untrustworthy or too prone to user error, and governments seem to be cracking down. On Tuesday, the US Department of Justice announced that it had seized more than $20 million in cryptocurrency from 35 dark web vendors who are awaiting prosecution. Even if vendors don't get busted, they need to be ready to convert that crypto into fiat cash because the whole market continues to slide. As of Friday morning, bitcoin was down 70 percent from its high last December, and somewhere between 800 and 1,000 different coins are worth approximately nothing.