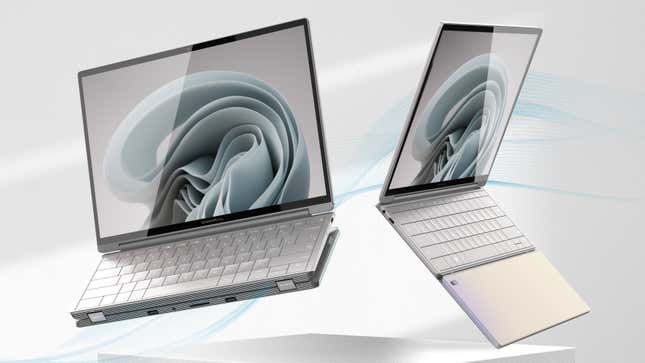 For those who find it impossible to sleep while crammed into an airplane seat, a long flight is a good chance to get some work done, although plopping a giant laptop onto a tiny seat tray can make that just as challenging as trying to get some shuteye. That's where the still-just-a-design Mobile Office laptop seems especially clever, as its wrist rest would fold away, giving it a smaller footprint.
Asus ROG Flow Z13 Gaming Tablet Review
For those now screaming at their screen that this is a needlessly complicated design for a laptop and that a tablet with a stand is a better space-saving solution: it definitely can be, but that's assuming the work you want to get done can be handled through the limited number of productivity apps available for mobile devices. Having apps like Photoshop now available on the iPad can be great sometimes, but the mobile version still isn't as robust as the full version, which still requires a computer.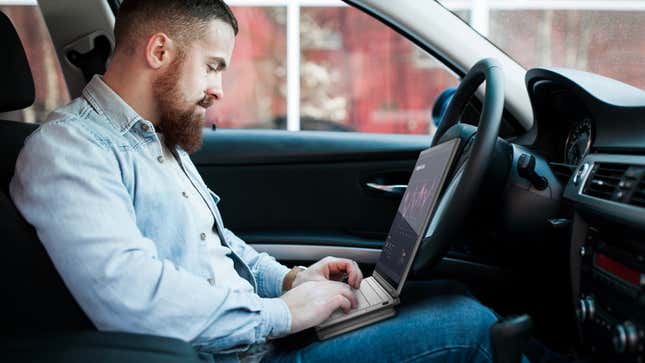 Folding away the wrist rest on the Mobile Office laptop allows it to squeeze into a smaller workspace, like the flip down tray table of an airplane seat, or on your lap while sitting in a car, without compromising the size of the screen or sacrificing a full QWERTY keyboard.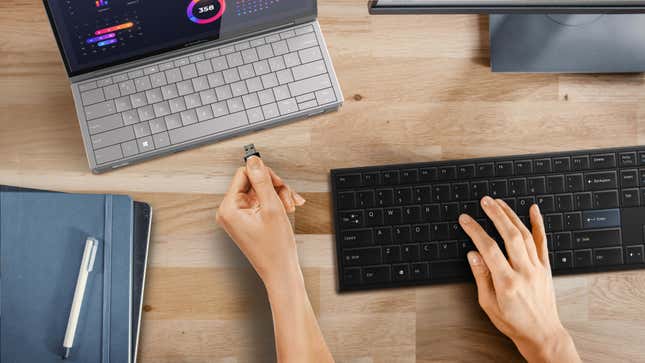 Compal Electronics, the company who came up with the design, also believes the folding wrist rest on the Mobile Office laptop will allow it to take up less desk real estate, particularly when it's being used as a desktop machine connected to an external display and keyboard.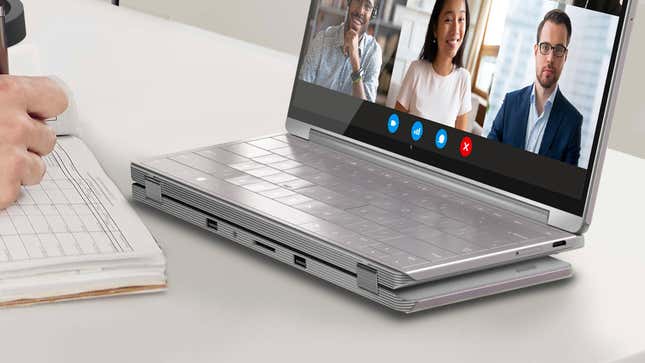 The folding design could also provide access to additional ports when needed, like a built-in memory card reader, or more USB ports (you can never have too many USB ports). Compal even boasts that folding the laptop has the extra benefit of "enhancing thermal performance by 25%," although it doesn't go into detail about how it got those numbers.
Some immediate questions and concerns come to mind with the concept. The wrist rest is where many laptops now feature their trackpads, but with that real estate occasionally inaccessible, we're going to assume that users will need to fall back on a touchscreen interface, which is rarely ideal for a desktop OS. The large footprint of most laptops also serves to counterbalance the screen when it's angled back, so Compal may have to increase the weight under the keyboard to ensure that, when folded, the laptop isn't easier to topple.
The biggest question we have, however, is when we can try one out, and unfortunately there's no answer to that question just yet. Compal Electronics designs electronics and computers for other companies to manufacture, so even though the Mobile Office did recently win an IF Design Award, that's no guarantee this design will ever become a laptop that consumers can actually get their hands on.

---
Want more of Gizmodo's consumer electronics picks? Check out our guides to the best phones, best laptops, best cameras, best televisions, best printers, and best tablets. And if you want to learn about the next big thing, see our guide to everything we know about the iPhone 15.