Halloween is just around the corner—it's next Tuesday in case you've lost track—and in honor of the second-most-popular holiday in the US, we've been scouring the web and have scared up only the best Halloween stuff. Gadgets, goofs, costumes and much more await you in our Monster Roundup, getting you ready for Halloween whether you like it or not.
Is AI Moving Too Fast? | Future Tech
First of all, you're going to need a costume. Guys, you probably aren't interested in looking like sexy Wizard Wanda here (or maybe you are), but you might have a significant other who might like to wear this slightly revealing getup or some of the others at 3Wishes. After all, hasn't Halloween devolved to both guys and gals dressing like sluts?
More Halloweenage, after the jump.

G/O Media may get a commission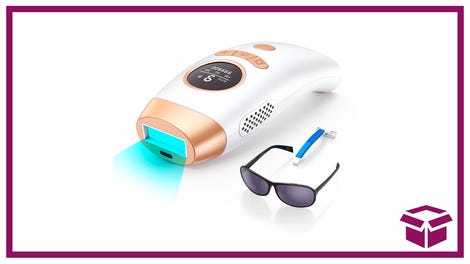 58% Off + Coupon
IPL Hair Removal Device
Pumpkin Burger: This must be a Halloween-style way of serving meatloaf, and perhaps the most unusual pumpkin modification yet. Notice the pumpkin seeds masquerading as sesame seeds on the top. This, my friends, is the essence of Halloween.
Big Mac pumpkin [Bits & Pieces]
Remind everyone that none of us get out of here alive with this Casket Business Card Holder, with a special slot in the top that holds those cards up for all to see. It's to die for at $23.99.
The Casket Business Card Holder [Gearlog]
Take a look at this Jell-O mold that looks exactly like a human brain, and we can't quite put our finger on what these fingers are, but they must be some kind of pastry with what looks like almonds on the ends for fingernails. If your guests aren't too grossed out, these creations might be a big hit.
Playing with Food [eG forums]
Make a pumpkin computer, and indulge either your Mac (it's a Classic, at right) or PC preference. Might seem kind of silly the rest of the year, but this Tuesday, you'll have the most appropriate computing device in the entire haunted house.
Pumpkin Computers [Make]
Project spirits: this weatherproof pattern projector will help you shine spooky bats or floating ghosts all over the side of your house, frightening the wits out of the neighbor kids, perhaps even scaring them away once and for all.
Light Display Projector [Hammacher Schlemmer]
Arachnophobia: don't forget to stock up on remote-controlled tarantulas. This creepy-crawly's eight legs move separately, realistically skittering about under your complete control, you madman.
Remote-controlled Tarantulas [Gifts.com]
Tampon Goblins: It might take a while for your guests to realize exactly how you made this scary ghost with the jittery eyes and his ominous-looking bat friend. Hang them all over the place, but just keep it a little secret that you invaded Missy's underwear drawer for your raw materials. We're still chuckling that there's actually a blog called "Tampon Crafts."
Tampon Halloween Hobgoblins [Tampon Crafts]