It's already time to start talking about Spider-Man: Homecoming 2's villains. Once Upon a Time bulks out its new cast in the wake of several key departures. The next big DC/CW crossover event wants to up the emotional stakes. Plus, new Kingsman: The Golden Circle footage, and rumors of another comic adaptation coming to Netflix. Spoilers now!



Avengers: Infinity War
Set pics have surfaced of Paul Rudd/Scott Lang running, catching his breath, then running some more. Exciting stuff.
Meanwhile more set pictures show Benedict Cumberbatch wrestling a man in a motion-capture suit—but eagle eyed fans noticed that said Mocap actor has the words "EB Maw" written on the back of his suit, leading to that it's actually a stand in for comics villain Ebony Maw, the strategist of Thanos' Black Order. They've already been rumored heavily as being involved in the movie, so it would make sense.
G/O Media may get a commission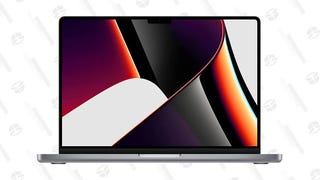 Save $300
2021 14" 1TB MacBook Pro
---
Swan Lake
Felicity Jones has signed on to star in Luca Guadagnino's adaptation of Tchaikovsky's Swan Lake, which will follow the story of Odette being cursed by a witch and turned into a swan, but have no actual dancing on it. [Variety]
---
Captain Marvel
Deadline has backed up earlier reports that Samuel J. Jackson will return as Nick Fury.
---
Spider-Man: Homecoming 2
At a recent press Junket, We Got This Covered asked Jon Watts which villains would appear in the sequel, and he just listed some ones he liked:
Yeah, Chameleon's cool. I wonder is it that cool of an ability nowadays? Like, we'd have to come up with a way to make him to be more than just that. But Chameleon is great and he's also one of the earlier day villains. I mainly focused on the bad villains as just a joke because there are so many really silly guys. Like Big Wheel. [laughs] So I've kind of done the wrong research so far in who the next villain could be. Swarm… [laughs]

Morbius is kind of cool! The tone of the character is pretty dark, but the vampire/Marvel Universe thing is pretty cool. Maybe we could get Blade to show up, too? That'd be neat.
---
The Grudge
Deadline reports that Nicholas Pesce will direct a second English remake of the Japanese horror movie Ju-On: The Grudge.
---
Gemini Man
Ang Lee's upcoming clone thriller starring Will Smith hits theaters October 4th, 2019. [Coming Soon].
---
Kingsman: The Golden Circle
Here's a promo courtesy of, of all things, Mr. Porter, the men's clothing retailer.


---
Once Upon a Time
Gabrielle Anwar, Dania Ramirez, Mekia Cox, Adelaide Kaine and Rose Reynolds have joined the cast of the all-new, all-different Once Upon a Time in undisclosed roles. [THR]
---
Arrow/Flash/Supergirl/Legends of Tomorrow
Executive producer Marc Guggenheim spoke to Entertainment Weekly about topping last year's epic crossover.
If we end up doing what we're talking about doing, it's going to be pretty cool. The crossover is always the most challenging thing we do, but it's also the most fun. Every year we feel the pressure [to top ourselves]. I feel like each crossover has topped the previous one. Topping last year's, that's a high bar, if for no other reason than what do you do that's bigger than aliens? We've got some very, very exciting ideas…. Very early on in the process of doing last year's crossover, Greg Berlanti said there's probably no way to get bigger than aliens, so the best way to make the next crossover especially epic is if you can't increase the bombast, increase the emotional stakes and the emotional payoffs, so that's a very oblique comment on where our heads are at for this season.
---
Legends of Tomorrow
Episode two of the next season is intriguingly titled, "Freakshow."


---
Umbrella Academy
According to Splash Report, Netflix is in talks to develop a series based on Gerard Way and Gabriel Ba's comic book series about a group of dysfunctional superheroes uniting after a decade apart to save the world.
---
Teen Wolf
Here's a quick teaser for the show's final season.
---
Preacher
Finally, Frankie Muniz will appear in next week's episode, literally as himself. [Bloody-Disgusting ]




---
Banner art by Jim Cooke.