It's July, so it's hot as crap outside. In most parts of the country, it's so balmy you're sitting inside in your underwear with the freezer open trying to stay cool. But for a different kind of reprieve, here are some of the best design posts we found this week.
---
There are simple things we often take for granted, like the fact that we can flippantly glance at a clock to tell the time. But people who can't see don't have that autonomy, which is why designer Hyungsoo Kim of Eone Timepieces has created the Bradley, a watch that lets blind people feel the time.
G/O Media may get a commission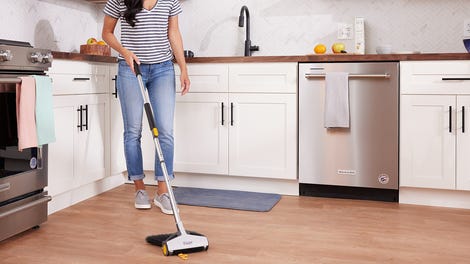 BOGO 50% Off
Flippr - BOGO 50% Off
---
How often do you really use that dining table in your apartment? Most meals are probably consumed in front of the TV, or at a restaurant. And sure, it's handy for the occasional dinner party or tax audit, but the rest of the time it's just wasting space. So reclaim a good 40 square of your pad with this incredibly…
---
Every sofa doubles as a black hole that sucks and traps the pocket contents of all who dare sit on it. But when the TV remote goes missing in a room accented with this lovely Tri-Folds sofa by Camille Paillard, the odds are pretty good that it's just hiding inside one of its folded pockets.
---
Shoe companies have been mass-producing sneakers since the Converse All Star first appeared all the way back in 1917, and their designs have changed immensely since. But how did we get from no-frills kicks to Jeremy Scott's garish winged monstrosities? A print from PopChartLabs shows the evolution over almost a…
---
Another day, another gleaming Silicon Valley headquarters. Today, it's Samsung, which broke ground on this dazzling 650,00-square-foot office in San Jose this morning. How does it stack up, so to speak, with its nearby peers?
---
There are few professional sports as closely bound to technology as cycling. A bike isn't just equipment, as skiis or a tennis racket might be—it's a partner in a symbiotic relationship between the machine and athlete. And it's remarkable to see how drastically certain parts of that machine have changed in the last…
---
Just over a year ago we brought you Anna Farkas' 2500 Watt astronomical lampshade, which projects constellations on the ceiling whenever the light is turned on. At the time, it was just a one-off concept—but as we had hoped, the stars have aligned: Today, the lamps are finally available for sale under the new name …
---
Retronostalgia is the air. Last week, we looked six New Yorks that could have been. And this week, National Geographic takes a similar look at D.C., for which there are veritable heaps of unbuilt memorials. Ever wondered what the Lincoln Memorial would look like, had it been built by ancient Egyptians?
---
Think of the Chrysler Building. Now picture it at night. It's even more beautiful when its jeweled top is illuminated with glowing yellow lights. But before the 1930s, lighting wasn't exactly used artfully. In fact, the term "architecture of the night" was coined by architect Raymond Hood in this 1930 pamphlet published …
---
The Suitcase House Hotel is the perfect place to hide out. It has an entire network of rooms hidden beneath the floorboards, like an architectural Swiss Army knife. Check out these amazing hiding places—or, as the hotel probably refers to them, the places where you brush your teeth and sleep.