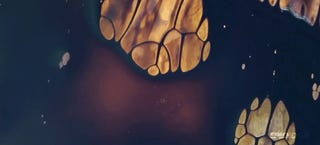 I can't figure out if this music video was made using computer graphics or macro photography. Maybe it's a combination of both. Or maybe the eggs I ate this morning had some toxins and all of this is only happening inside my head.
Aquarian is an electronic-music producer and photographer based on Brooklyn. This song, called SOMA, is one of his latest EPs.
You can follow Aquarian on Facebook or Twitter and listen to SOMA here.
---
This is part of a series in which we are featuring really cool music videoclips. If you are a musician or a director with high quality work, please drop me a line here.
---