NASCAR—a celebration of horsepower reveling in the roar of the engine and the aroma of gasoline, grease, and burning rubber. You shouldn't ask why NASCAR uses modified jet engines to dry its racetracks, you should ask why doesn't everybody?
Jet Dryers have been around since the early 1970s but at that time they were used primarily in road construction. They were introduced to NASCAR in 1976 by legendary owner Roger Penske after he saw them used to melt snow in a trench at Michigan International Speedway that workers needed to refill with stones as part of their repaving work. Penske, according to Dan Salenbien, Director of Facilities at MIS, immediately saw the value in the devices, turned to Salenbien and asked him to fabricate some of his own. "Roger saw that, and said we needed something like that," Salenbien said. "I'm not going to take credit for it, because it was Roger's idea. Whenever he said 'can you do that?' I always said yes, and then went back to the shop and figured it out."
Using a Westinghouse J34 jet engine from the 1950's, Salenbien mounted it in a frame and created an exhaust hood to direct the air flow downwards. "We made it so the fuel tank is self-contained and one person can start it and operate it from inside the truck," Salenbien explained to the Toledo Blade. The air temperature of the exhaust can reach approximately 1100 degrees.
The track dryer concept has proven so useful, Salenbien has since built 18 more track dryer trucks in two variations—rear-mounted dryers on 3/4 ton dual-axle trucks and smaller front-mounted dryers on 1-ton pickups. The front mounted devices aren't used for dry as much as they are for pushing debris away from the racetrack's walls. Jet engine. Used for sweeping. Moving along.
G/O Media may get a commission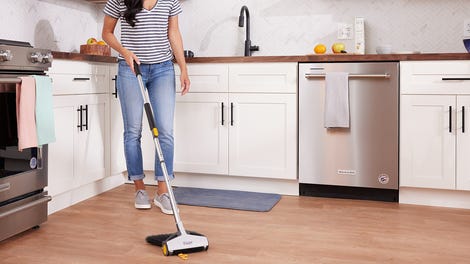 BOGO 50% Off
Flippr - BOGO 50% Off
It runs on jet fuel. Why are you surprised? It's a jet engine. And a thirsty one at that. "It holds 200 gallons of jet fuel and it burns 200 gallons an hour," Salenbien added. During one race in April of 2007, the crews at MIS burned an estimated 12,000 to 15,000 gallons of jet fuel to dry the track.
Also, the act of track drying isn't especially good for the track itself. Since the exhaust is 1100 degrees, is rapidly heats the asphalt while drying it. Problem is, asphalt isn't a homogeneous material but rather bits of rock held together within a concrete matrix. These materials don't heat at the same rate, and even when they did, the materials expand when heated that much, which causes them to press against the surrounding asphalt, buckling and/or cracking when the stress and pressure get sufficiently high.
[Stockcar Science - NASCAR - Firebird Online - Toledo Blade - Building Speed 1, 2 - Images courtesy of the AP]
Monster Machines is all about the most exceptional machines in the world, from massive gadgets of destruction to tiny machines of precision, and everything in between.
---
You can keep up with Andrew Tarantola, the author of this post, on Twitter, Facebook, or Google+.