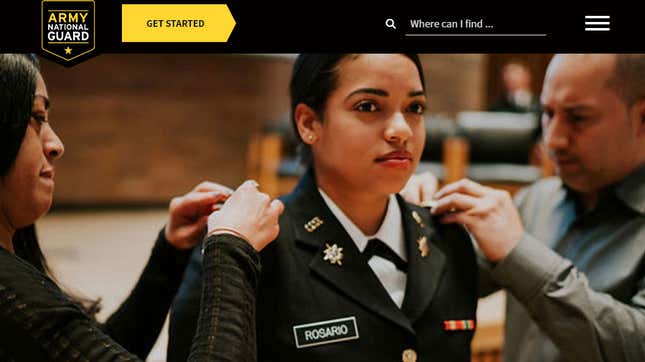 Teens love their screens, and the Department of Defense is prepared to take advantage of that. The Georgia Army National Guard has big plans to boost its recruitment efforts through targeted ads on high schoolers' cell phones, according to a federal contract document obtained and first reported on by the Intercept.

Google's Antitrust Case Is the Best Thing That Ever Happened to AI
In 10 pages, the DOD outlines what its looking for in an ad agency partner and what it hopes to achieve with a digital campaign focused on high schools. The "primary objective," according to the contract document: To reach teenagers and generate "qualified leads of potential applicants for enlistment while also raising awareness of the Georgia Army National Guard."
Via location tracking, geofencing, and monitoring individual students' phone activity, the state National Guard branch plans to beam banner ads, video advertisements, and other material to kids' devices across social media and streaming platforms. Specifically, the ads will be plastered across Instagram, Snapchat, music apps, and TV streaming sites. Notably, TikTok is excluded from this list because of a ban on DOD use.
Using geofencing (i.e. virtual perimeters that marketers can employ to target their ads to devices within a small geographical area), the DOD intends to spam recruitment ads to phones within a mile radius of each school. Students are the target, but the Georgia National Guard is also interested in reaching school counselors and parents—who could presumably help sway teens in their decision making processes.
In total, the Georgia military organization, which is the sixth largest National Guard in the U.S., will test its recruitment ad scheme at 67 different high schools. As a secondary metric of success, the military is hoping to rake in more than 3.5 million views or "impressions" and thousands of clicks on its ads in first few months of the campaign's launch, per the federal document.
The contract plan states that the state National Guard aims to reach 17-24 year olds (the document also references setting up ad campaigns at colleges, though offers no further specifics). However, it's unclear whether the DOD plans to limit its ad audience to only older teens, as the document doesn't mention age filters. Even younger teens and children at middle and elementary schools near to high schools could also end up inadvertently targeted by the National Guard ad campaign. Geographically targeting high schools could be a way "to bypass parental involvement in the recruiting process," ACLU of Georgia lawyer, Benjamin Lynde, told the Intercept. Lynde himself reportedly enlisted in the Georgia National Guard in 2005, but said "parents should be involved from the onset."
On top of the location tracking necessary to enable geofenced ads, the DOD also plans to keep tabs on individual phone identity and activity to "retarget" ads, once a user has engaged with its material. In other words, if a teenager clicks on one of the banner ads they're sent and ends up on a National Guard landing page, the military will then double down and send even more targeted material to the teen's phone. And the ads won't just stay at school or on specific apps. Retargeting will also allow the campaign content to follow teens home and to other websites, according to the Intercept.

The contract is dated from February 2023, and mentions an active ad campaign being in place before September. However, it's unclear which, if any, ad agency won the DOD bid. The plan outlined in the contract is "in its infant stages," said a Georgia National Guard spokesperson in a phone call with Gizmodo. The spokesperson added that they didn't believe any company had received the contract yet, but could not definitively confirm that. Currently, they said, the Georgia National Guard hasn't employed geofenced ads in the state's high schools. However, the military force still uses other means to "reach out to the younger audience," including phone, email, social media, and face-to-face recruiting events.

Gizmodo reached out to the DOD, and the Georgia Department of Education for more information, and did not hear back by publication time.
The plan implied by the federal contract doc is far from the first time the U.S. military has targeted teenagers and high schools. Teen recruitment has been a longstanding strategy across defense branches, and many public and private schools host recruitment events. In fact, the No Child Left Behind Act of 2002 made it mandatory for schools receiving federal funding to provide military recruiters with student contact information upon request.
Nor is it the first time that the DOD has sought to entice enlistees through controversial digital means. Through chatbots and Twitch streams, the U.S. military has aimed to boost its public perception and attract new sign-ups via the internet for years.
Yet the Georgia National Army Guard contract is a particularly illuminating glimpse into how ad tech and armed forces can come together in unsettling ways. Already, geofencing has enabled personal injury lawyers to target emergency room visitors, anti-abortion groups to spam people inside Planned Parenthood clinics, and political groups to hone in on protestors. Now, not even public schools are safe from the creep of location-based ad-targeting. And not even children are safe from military recruitment.
Update 4/17/2023 3:27 P.M.: This post has been updated with additional information from a Georgia National Guard spokesperson.