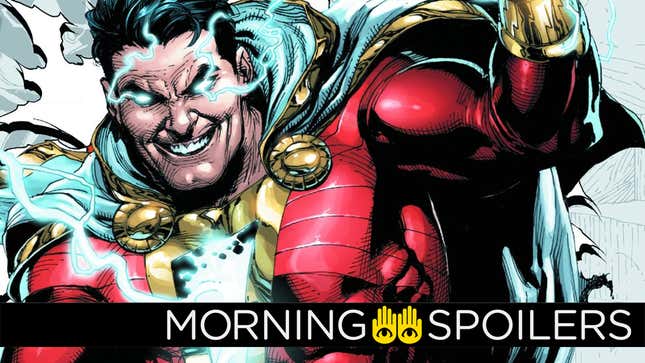 The Cyborg solo movie will revisit the hero's origins. Get an even better look at Iron Man's Avengers: Infinity War armor. Another familiar face could return for the John Wick TV series. Plus, behind the scenes on A Wrinkle in Time, and Phoebe Waller-Bridge on Ron Howard's take on Solo: A Star Wars Story. Spoilers get!

Twitter Is Shifting Right | Future Tech



Shazam
Shazam is now slated for an April 15th, 2019 release date. [Coming Soon]
Meanwhile, That Hashtag Show has uncovered casting calls for the wizard Shazam, who grants Billy Batson his transformative powers, and the whole Sivana family—including Shazam's arch nemesis Thaddeus Sivana, who has been reworked as a sorcerer rather than a genius, villainous scientist.
SHAZAM – "Elderly wizard who is forced to give his powers to a young boy before the boy is ready." Supporting Lead Male

THADDEUS BODOG SIVANA – "Evil sorcerer who regenerates from death with world domination on his mind." Supporting Lead Male

BEAUTIA SIVANA – "Sivana's devoted daughter. When he does not return her love, she changes loyalties and helps Billy out." Supporting Lead Female

MAGNIFICUS SIVANA – "Sivana's incredibly giant and strong son that has a huge battle with Shazam." Supporting Lead Male
The casting call is also searching for an actor to play a character only referred to as "Mysterious Man", which the outlet speculates may be a cover for Dwayne Johnson's debut as Black Adam:
MYSTERIOUS MAN – "Shazam's underling." Cameo Male
---


Halloween
Production has begun on Blumhouse's Halloween follow up, so celebrate with this cryptic shot of a chair.
---
Pale Blue Dot
Natalie Portman is in talks to star in Noah Hawley's forthcoming "love rectangle in space" movie, Pale Blue Dot. The story concerns an astronaut returning home to her husband after having an affair in spaaaaaace, only to learn her new astro-lover also has his own love interest on the side. [Film School Rejects]
---
Gemini Man
Clive Owen will star opposite Will Smith as the antagonist in Ang Lee's latest sci-fi/action film. The story concerns a retired NSA agent (Smith) learning his clone (also Smith, unsurprisingly) is trying to kill him. [Variety]
---
The Jungle Book 2
According to screenwriter Justin Marks, Jon Favreau's live-action Jungle Book sequel will mine ideas from Bill Peet's rejected 1967 screenplay for Disney's animated original.
In the second film, the idea is to go further through the Kipling but also go into some of the Disney resources from the '67 film that maybe didn't get to see the light of day in the first film. If you look back to Bill Peet's work on the original film, some of which was thrown out by Walt Disney, Jon [Favreau] and I really dove deep into the Disney archives to see some of the ideas. We were like, 'Wait, that's a great idea. We really need that in the film.' So we've built it out like that.
[/Film]
---
Disenchanted
Director Adam Shankman gave an update on the sequel to Enchanted during a panel at the Television Critics Association over the weekend.
We are handing in a script in a couple weeks that I'm super happy with. Then gotta get the music written. The fundamental story has changed a little bit, but not from the base story of it. It's about Giselle 10 years later going, 'What is happily ever after?'
[/Film]
---
Mission: Impossible 6
The Daily Mail has captured set footage of Tom Cruise executing his infamous running style across the Thames.
---
Cyborg
According to Joe Morton, who played Victor's father Silas in Justice League, the Cyborg solo film will revisit the character's origin story.
From what I understand, there will be a Cyborg movie. It will be about him and I, and about the family that he came from, how he becomes the Cyborg, et cetera. But from whence he came, as well.
[ET]
---
Han Solo
Phoebe Waller-Bridge addressed the changing of the guard from directors Phil Lord and Christopher Miller to Ron Howard in an interview with IGN:
The handover there was done with such warmth and generosity from everybody, and Ron's just a master at his craft; he's going to make a beautiful film out of it. You just really trust him and it was just really exciting to work with him. I mean, it would've been exciting to just pass him in a corridor, let alone for him to be parachuted in to the film you're working on. We'd done some really, really great stuff with Chris and Phil that everyone was really thrilled with and I think a lot of that will still be in it.
---
Avengers: Infinity War
Iron Man's swanky new armor from the film debuts in a commercial for Disneyland Paris, of all places.
---
A Wrinkle in Time
The film's botanical aliens debut in a new behind-the-scenes featurette.
---
The Continental
Carmi Zlotnick, the President of Original Programming for Starz revealed Ian McShane is in talks to reprise his role as Winston in the John Wick series.
There are certainly conversations about having Ian McShane back. The good part is we have some sort of insight into his schedule because of our involvement in American Gods. We're in conversations with Ian.
[/Film]
---
Monsters: The Series
A television series based on Gareth Edward's 2010 movie, Monsters, is in development at Vertigo Films. The series plans to air on Channel 4 in the UK, and is currently "looking to secure a major U.S. partner" like Netflix or Amazon for release in the US. [Deadline]
---
Stan Against Evil
Good News! Stan Against Evil has been renewed for a third season at IFC. [Coming Soon]
---
Twin Peaks
Kyle MacLachlan addressed the possibility of a fourth season during Showtime's panel at the Television Critics Association.
David's process is his own. He will come to it if he comes to it, in his own time. That could be 10 minutes, it could be 10 years. I don't know. If we do decide to go again I would be absolutely excited to revisit doing it again. Those characters are always fascinating.
[/Film]
---
The Flash
Cecile gets superpowers while a new metahuman downsizes the regulars in the synopsis for episode 12 of the current season, "Honey, I Shrunk Team Flash."
THE INCREDIBLE SHRINKING MEN — A meta who can shrink anything he touches battles Team Flash. Cisco (Carlos Valdes) and Ralph (guest star Hartley Sawyer) get caught in his crossfire and are shrunk to miniature versions of themselves. Cecile (guest star Danielle Nicolet) realizes her pregnancy has caused her to have temporary powers and discovers she can hear other people's thoughts, which unnerves Joe (Jesse L. Martin). Meanwhile, Barry (Grant Gustin) meets someone with a mysterious connection to Henry Allen. Chris Peppe directed the episode written by Sam Chalsen & Judalina Neira.
---
Doctor Who
Speaking to Doctor Who Magazine (via Screen Rant) Jodie Whittaker discusses not having to hide her Yorkshire accent to play the latest Time Lord.
All the Doctors' voices have been different. There have been various dialects and I knew coming into it that there wasn't a rule that you had to speak a certain way. Obviously anyone who's seen me knows that this isn't the only voice I'm comfortable doing. If it hadn't worked during the scenes in the audition process I'm sure they would have picked up on that immediately. So in a strange way, I don't know how much of an actual decision it was. I think [the decision] happened before I was even cast.
---
The Terror
Finally, an eldritch evil lurks beneath the Arctic in the latest trailer for AMC's horror series on the HMS Terror. Content warning for both eyelid trauma and some light flensing.
---
Banner art by Jim Cooke. Shazam! Volume 1 art by Gary Frank.