Sleepy Hollow debuted the first half of an upcoming episode at New York Comic-Con this weekend and it revealed a whole new twist for the characters. Spoilers ahead.
Alex Kurtzman, Len Wiseman, Tom Mison, Nicole Beharie, Orlando Jones and Katia Winter joined together on stage to show a little preview and talk a little Sleepy Hollow.
The new footage was exactly everything we love about this series, both hysterical and kind of spooky. We see Ichabod and Abbie partaking in a local baseball game. She is yelling at the umpire and Ichabod is being predictably adorable. Why do you like this game if you yell? Abbie launches into a sweet speech about how this sport represents great tradition and democracy, which makes a fan of Ichabod as well. After the game, Ich walks to the grave of his beloved wife. While kneeling down to the ground, he's struck by a dart and passes out. His last vision is of a bunch of suits bagging his head.
Meanwhile, Abbie is in a car having a vision of her own. Katrina, Ich's wife is desperately trying to contact her, because she can no longer see her husband (who has been kidnapped). She tells Abbie that tonight the Headless Horseman will return to Sleepy Hollow and only Ich can stop him... but he's missing. She also drops these bombs: The spell that Katrina cast on her husband? She used to think it's irreversible but now she knows that he can be saved. He just has to be sanctified by a Sin-Eater. Dun-dun-dun!
G/O Media may get a commission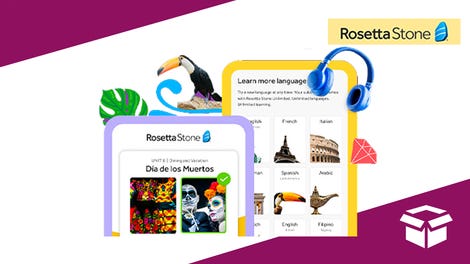 Extra 20% off
Rosetta Stone Lifetime Subscription - All Languages
And now onto the best parts of the panel and Q&A:
Who is this new Sin-Eater? John Noble, bitches!
Yolanda (the OnStar muse) will not be appearing again (this season). But maybe she will re-appear in the second season. Because that scene was awesome.
When asked about the balance between humor and drama Tom Mison stated that "the flouncing tart in me just wants to ham it up." But he has to relax and let the jokes that are written come through. Because they are good.