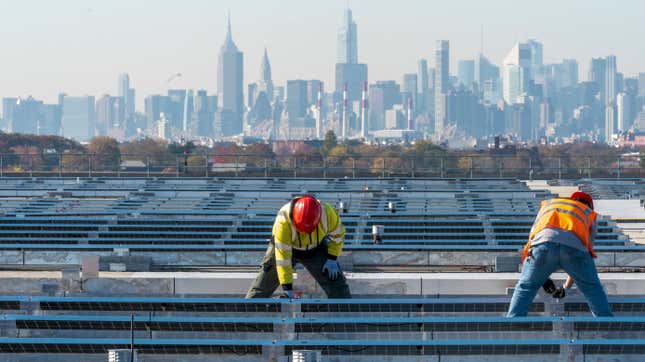 Most people in the U.S. pay private or investor-owned power companies—fueled by profit motives—for their electricity. It's a system that makes advancing renewable energy secondary to advancing corporate revenue. But public utilities offer an alternative that divorces peoples' energy needs from companies' bottom lines. Often, these state or municipal run-entities offer more affordable rates, and they're accountable to the taxpayers who fund them. As a result, environmental advocates and policy experts tend to agree that expanding public ownership of utilities is one key way the U.S. could begin to tackle the mounting climate and energy crises.

Is This Product Actually Vegan?
This week, one U.S. state has taken big strides to lean into the potential of public energy.
New York has moved to make its Power Authority (NYPA) fossil fuel-free and reinvigorate an atrophying public utility. With the passage of a version the Build Public Renewables Act, the state has set new benchmarks for phasing out polluting energy sources in favor of more climate-friendly renewables. The newly passed policy also mandates that NYPA, the largest state power organization in the U.S., expand its publicly owned, clean energy production.
Following a years-long struggle, the legislation was signed into law by Governor Kathy Hochul as part of New York's contentious 2024 annual budget on Tuesday. The policy will transform NYPA into "the most dynamic builder and owner of public renewables in the nation," wrote Robert Carroll, assembly member for NY's 44th district, in a tweet. "It's the most important Green New Deal legislation to ever pass!" he added.
"It's really such a huge victory," said Lee Ziesche in a phone call with Gizmodo. Ziesche is an organizer for Public Power New York, the primary grassroots coalition that's been fighting to pass the legislation. "Overall, the budget was very dismal and pretty bad for working class people, but this was really a bright spot," she added.
What Does the Build Public Renewables Act Do?
Hard-won climate provisions in New York's 2024 budget aim to boost energy affordability statewide, protect energy sector workers, create green jobs, and shift state and municipal infrastructure over to sustainable power.
In specifics: The legislation requires NYPA to generate all of its power from renewables by 2030. It ensures that state-owned buildings and infrastructure run on renewables by the same year, with few exceptions. Municipal properties like hospitals, schools, and transit will have to transition entirely to sustainable energy sources by 2035. The Governor's budget will shutter polluting so-called "peaker plants" across New York City, which disproportionately harm people of color living in lower-income neighborhoods, by 2030—five years earlier than previously promised. In short: it truly is a state-level Green New Deal.

The bill mandates that NYPA build more renewable energy capacity over the next decade, after years of ceding construction to price-gouging companies. Moreover, any resulting development projects will have to employ union labor and cannot come at the undue expense of people or the environment. The utility will also have to offer the clean electricity it produces at reduced rates to qualifying low-income customers.
The History of New York's Build Public Renewables Act
Progressive lawmakers and climate advocacy groups have been working to enact the Build Public Renewables Act for four years. It has been a fraught and politically complicated battle, with New York's less progressive executive leaders—Hochul included—pushing back. Past iterations of the bill gained partial legislative approval but failed to clear every necessary political hurdle.
Despite having the votes to succeed, BPRA died in the Assembly last year after being blocked from the floor by Speaker Carl Heastie. Energy workers' and other unions didn't rally behind past versions of the policy out of fear of where the renewable transition would leave them. In January, Gov. Hochul reintroduced a neutered version of the bill that removed some major provisions, including the renewable development mandate and labor protections. Proponents of the policy had to fight to get them re-incorporated.
Finally, enabled by the Inflation Reduction Act, which expanded NYPA's access to tax credits, and thanks to improved collaboration with labor groups, the months and years of work have mostly paid off.
Ziesche has been toiling in environment and energy organizing for about a decade. In that time, she told Gizmodo, this is the only bill she's seen passed that challenges the flawed idea that the free market can resolve climate change. In her 10 years of advocacy efforts, "It is the happiest I've ever been," Ziesche said.
What's Next?
There are a few caveats and compromises worth noting. Instead of a blanket mandate compelling NYPA to create more clean energy in perpetuity, the passed version only requires 10 years of construction. Hochul also kept out a provision that would've expanded the public utility's board to include representatives from labor groups, environmental justice organizations, and members of the legislature. Currently, almost all of the trustee members come from a business background, Ziesche explained.
There's also one last barrier to clear. Hochul-backed interim chairman of NYPA, Justin Driscoll, is up for nomination to officially become the organization's president and CEO. Driscoll has publicly opposed the BPRA in the past, and he could do a lot to derail progress as head of NYPA. His appointment has yet to be confirmed by the state senate, and multiple legislators are against his nomination. More political back and forth is likely to ensue before the public utility gets building.
Regardless, the bill is a big step forward for New York and for climate-focused policy advocates nationwide. "Hopefully, people will see this as a model and something they can fight for in their states," Ziesche said. She noted that political coalitions outside of New York have already begun to reach out to Public Power NY for help crafting their own campaigns. "Energy is something that belongs to us, and it feels very powerful to take back your power in this way."