We all know Winnie the Pooh as a beloved children's book character, a Disney icon and, of course, a honey fetishist. But the "willy nilly silly old bear" and his friends have made three recent incursions into nerd-dom that may indicate a more concerted effort by the denizens of Hundred Acre Wood to take over every single fandom we hold dear.
Admittedly not all of these Pooh-ism are naughty in nature. The "Deadpooh" tattoo seen here - drawn originally by Rodney Fyke then tattooed onto Becky Clousineau by Tom Beste of Eternal Tattoos - is pretty awesome. Wade Wilson would certainly approve of it, if only because the awkward questions Cousineau's eventual grandchildren will ask her about it.
G/O Media may get a commission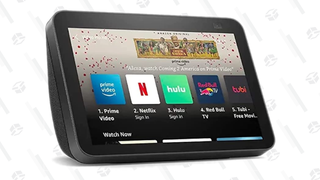 And then there's this phenomenal if slightly confusing Winnie the Pooh/Doctor Who mash-up cake featuring what I have to assume is the Eleventh Tigger in a rickety TARDIS (Tiem and Rellativ Demenshuns in Spayc [I know it says "Polise Bocs" on it, but I'm enjoying myself here, shut up). Obviously, the best part is Dalek Piglet, who would improve Disney's Pooh cartoon a hundred-fold if he went around screaming "EXTERMINATE" all the time.
Of course, not all of Pooh's attempts to conquer nerdery are so benign. Our neighbors at Gizmodo report a 9-year-old Finnish girl had her Winnie the Pooh laptop confiscated by the police after trying to download a torrent of a Finnish pop song on The Pirate Bay. No doubt Pooh was trying to lead the poor girl into a criminal life of online piracy, so we should all be thankful the authorities stepped in to bravely take a 9-year-old's cartoon-themed computer away from her.
[Tattoo and cake via iGeektrooper]