The internet went into a tizzy this week when headlines proclaimed that the Uber driver in Kalamazoo, Michigan who's accused of murdering six people was suing Uber for $10 million. But the lawsuit is a hoax.

As MLive first reported, a handwritten lawsuit was indeed filed on Tuesday. But the killer, 45-year-old Jason Brian Dalton, didn't have anything to do with it. The postmark on the envelope leads investigators to believe that the hoax letter was sent from Philadelphia.
"[Dalton] said he has no idea what it is," Kalamazoo County Undersheriff Pali Matyas told MLive. "He said he didn't send it, didn't authorize it, doesn't know who did."
The hoax letter included accusations of unpaid wages and in hindsight would appear to be the work of someone intentionally trolling rather than the work of a mentally disturbed Dalton impersonator, though those two things aren't mutually exclusive.
From the hoax lawsuit:
I worked years as a Uber contractor and they ripped me off, never paid me back wages or overtime. I busted my butt for them. They gave me no Christmas bonus, I wasn't invited to any corporate parties, they made me work when I was sick and didn't let me spend time with my 2 children.
G/O Media may get a commission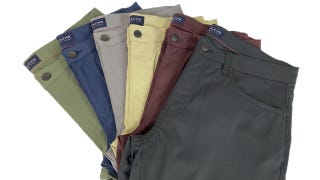 JACHS NY Fall Stretch Tech Pants
Dalton is accused of killing six people and wounding two others in three different locations on the night of February 20th. Dalton picked up passengers throughout the spree and one of his last passengers even jokingly asked if he was the killer.
The real Dalton has told investigators that he was under the control of the Uber app and a horned devil figure appeared to him. A trial date has not been set for Dalton.
[MLive via Ars Technica]