As expected, Nokia announced three additions to their Nseries line of multimedia devices today. Annsi Vanjoki, executive vice president and general manager of Multimedia at Nokia:
"Nokia Nseries brings mobility to those experiences which used to be linked to a place or a single purpose device. When you have a Nokia Nseries device that is always with you and connected, you no longer need to sit in front of your TV to watch your favorite program or take along a separate digital camera when you go on vacation. Our goal is to make it easy for people to have their favorite experiences - whether it's sharing video, browsing the Internet or buying new music - with them all the time."
The Nokia N93 in the photo above might just be the first device made for serious mobile videoblogging—it takes MPEG-4 VGA video capture at 30 fps, records audio in stereo and has digital stabilization to avoid shaky capture. It features a 3.2 MP (2048x1536 pixels) camera with a Carl Zeiss Vario-Tessar lens, 3x optical zoom (20x digital zoom), an active toolbar like you see on many digital cameras that displays details like white balance and exposure, and dedicated shutter, zoom and flash keys. Video and photos can be edited on the N93 and uploaded uncompressed via email, Bluetooth or to blogs or Flickr; multimedia can also be shown on compatible TVs via the included cable or wirelessly over integrated WLAN and UPnP. It runs on WLAN, 3G (WCDMA 2100 MHz), EDGE and GSM (900/1800/1900 MHz) networks, runs on Symbian OS 9 and S60 3rd Edition like all new Nseries phones and should be available July 2006 for €550.
The Nokia N73 at right also has the 3.2 MP Zeiss Lens plus a 2.4 inch display, and is meant for users who want to capture quality multimedia but also want their device to be easily pocketable—as you might gather from the photo on top, the N93 is somewhat of a behemoth. It functions on 3G or quadband EDGE/GSM networks, has an FM radio and digital music player, a VGA camera on front for video calls and is expected in July.
G/O Media may get a commission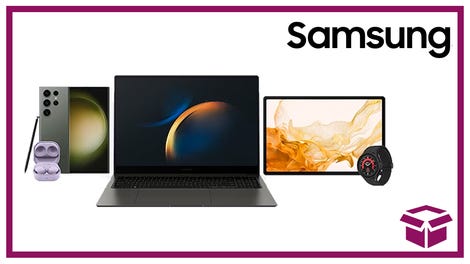 24 hour deals
Discover Samsung - Daily Deal
Last, we have the Nokia N72, slightly less powerful than its siblings but certainly more attractive. Bill Sermon, vice president of Multimedia Design:
"The design concept was inspired by what the Nokia N72 means to someone, rather than what it can merely do for that person. We drew on the relationship people have with things that inspire great performances, like the world's finest grand piano or the perfect handcrafted writing pen. We wanted to play with contrast and detail to create drama within the product - and the end result is a beautiful device that creates its own signature at the same time that it draws you in."
We're not sure the hyperbole is warranted, the N72 is easy on the eyes but it doesn't have the stunning good looks of the RAZR or even the PEBL. What it does have is a 2 megapixel camera (1600x1200 pixels) and an integrated digital music player, with dedicated keys for both, as well as an FM radio. The N72 will be out in June 2006, in key markets worldwide: the Middle East and Africa, Russia, Eastern Europe, mainland China, India, Indonesia, Thailand, Vietnam, Malaysia and the Philippines. So yes, as usual, the US will probably not be getting the good phones until they are passe in every other country.
Nokia Introduces the Next Story in Video with the Nokia N93 [Nokia]
Digitally Divine Nokia N73 - the Ultimate Challenge to the Digital Camera [Nokia]
Meet the Nokia N72: the Multimedia Computer that Looks as Good as It Performs [Nokia]
Nokia Drives Internet Convergence With New Nokia Nseries Devices and Experiences
[Nokia]