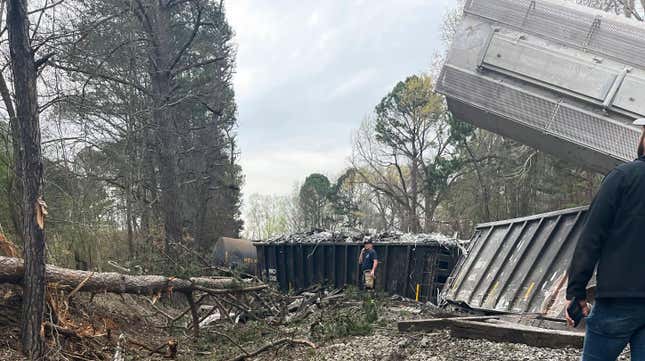 A Norfolk Southern train traveling in Calhoun County, Alabama derailed early Thursday morning. Thirty-seven train cars jumped off the tracks around 6:50 a.m. ET, according to local news reports.

Rail Company Sued For Train Derailment in Ohio | Extreme Earth
The incident is at least the freight company's fourth derailment in just over a month—starting with the disastrous East Palestine, Ohio derailment in early February. That earlier accident forced the evacuation of thousands of people, polluted the local environment, killed an estimated 43,000 animals, and has led to ongoing health concerns for the community.
Following East Palestine, a second Norfolk Southern train jumped the tracks in southeast Michigan on February 16. A third derailment followed in Springfield, Ohio on March 4.
In this morning's incident, nobody was injured. Further, the train was not carrying any known hazardous materials, a Norfolk Southern spokesperson, Connor Spielmaker, said in a midday press conference, per AL news. Two of the train cars involved had previously been carrying hazardous materials, but at the time of the derailment, the cars only contained residues and no leak or risk to the public was detected, Spielmaker said. An investigation into the incident's cause and a cleanup of the toppled train cars and their contents is underway, officials said.
G/O Media may get a commission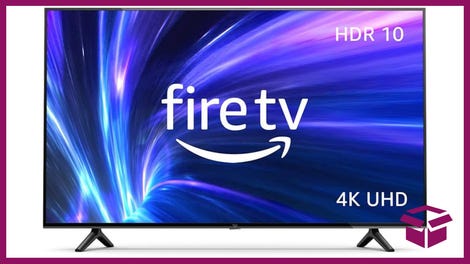 42% Off
Amazon Fire TV 50" 4K Smart TV
In a twist of fate, today's Norfolk Southern derailment occurred just hours before company executives were scheduled to testify before Congress. In that hearing, the railway corporation's CEO, Alan Shaw, told the assembled U.S. senators that he was "deeply sorry" for the damage wrought in East Palestine. "I am determined to make this right," Shaw said, according to the New York Times. However the exec refused to commit to paying for residents of the Ohio town's long-term medical costs, health care, or the subsequent local economic damage—even when pressed by multiple senators, NYT noted.
Freight train derailments are all too common, with more than 1,000 such incidents recorded in 2022 alone. Though most are far from the catastrophes of East Palestine, derailments are still preventable disasters that can lead to significant environmental and human consequences. In the wake of the East Palestine, they're beginning to get the attention they probably deserve.
Rail companies like Norfolk Southern have rallied (and lobbied) aggressively against regulations and measures, such as better brake requirements, that would likely make freight transport safer and derailments less frequent. And for years, the companies have been winning. Yet now Norfolk Southern and others are facing increased pressure to change their ways. Earlier this week, the company began to announce safety adjustments. Additional regulations could be on the way, hopefully to be enshrined in U.S. law.
Yet the fault doesn't lie with the train companies alone. Politicians on both sides of the aisle have been complicit. At the end of 2022, Transportation Secretary Pete Buttigieg, President Joe Biden, and Congress openly worked to halt a planned rail strike. Union workers were prepared to shut down operations in an attempt to win paid sick leave and other basic protections. It's safe to assume that many derailments are the result of human error, and sick and tired railway workers, forced to continue working, probably make a whole lot more errors. Ergo: paid sick days equal safer freight transport.
In Thursday's hearing, Norfolk Southern CEO Shaw still refused to commit to providing all of his company's workers with paid sick leave, where an authorized strike back in December 2022 might have forced the issue. Senator Bernie Sanders questioned Shaw on the issue, repeatedly asking the exec for clarity. In response, Shaw provided vague, equivocations. "You sound like a politician," an exasperated Sanders eventually said.