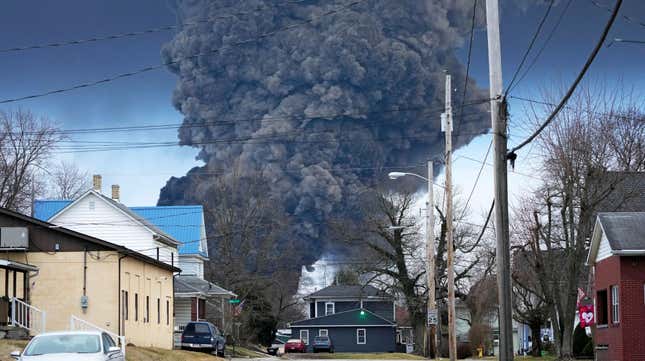 Update: As of Wednesday night, residents who evacuated from East Palestine following the train derailment are permitted to return to their homes. "Air quality samples in the area of the wreckage and in nearby residential neighborhoods have consistently showed readings at points below safety screening levels for contaminants of concern," a press release from Ohio Governor Mike DeWine said. "Based on this information, state and local health officials determined that it is now safe for community members to return to their residences." Officials and agencies on the ground will continue to monitor air quality. Norfolk Southern Railroad, the rail operator, hired an independent contractor to work with officials and the EPA to take "air quality samples and provide results at no charge to residents."
Original article appears below.
Officials are continuing air and water quality tests near a derailed train in northeastern Ohio as evacuated area residents wait for news on when they can return, Cleveland 19 News reports.
This comes several days after a 150-car train carrying hazardous chemicals derailed in northeastern Ohio. The train was traveling from Illinois toward Pennsylvania and derailed Friday night near East Palestine, the community closest to the crash., NPR reports.
"There were 20 total hazardous material cars in the train consist—10 of which derailed. 5 of the derailed hazmat cars were carrying vinyl chloride," the National Transportation Safety Board tweeted over the weekend. 
The concerning materials made the wreckage at risk for a potential explosion. Residents within a 1 mile radius of the derailed train were ordered to evacuate their homes by Ohio Governor Mike DeWine. To avoid an explosion, agencies conducted a controlled release of the hazardous chemicals onboard the train. On Monday afternoon, anyone close enough to the derailed train site could see an ominous column of dark smoke. Local WTOV9-NEWS9 reporter Tyler Madden tweeted a photo of the site earlier this week.
The concerning chemicals released from the train earlier this week were not detected during monitors afterward, according to the U.S. Environmental Protection Agency. "Residents in the area and tens of miles away may smell odors coming from the site. This is because the byproducts of the controlled burn have a low odor threshold," the EPA said via an online statement. "This means people may smell these contaminants at levels much lower than what is considered hazardous."
During a press conference this Tuesday, East Palestine Fire Chief Keith Drabic was asked to estimate when evacuated area residents could return. "No, I can't," he said, visibly frustrated.
The EPA is going to continue monitoring air quality alongside other agencies, including the Ohio National Guard, in hopes of safely allowing evacuated residents to return to their homes.