In this month's books, Greg Bear serves up disaster in deep space, while a beautifully designed book sheds new light on steampunk. Plus medieval utopias, star-crossed loves, and a flaming zeppelin!
Steampunk Reloaded, ed. Ann VanderMeer and Jeff VanderMeer (Tachyon Publications)
This lavishly designed compilation offers up short fiction, essays, comics, collage art, and a round-table interview for those looking to deepen their appreciation of a popular subgenre. (See above for one of the lovely interior illustrations.) The follow-up to the Vandermeers' 2008 Steampunk collection, this book brings together previously published fiction by William Gibson, Cherie Priest, and Vilhelm Bergsøe, a Danish contemporary of Jules Verne.

G/O Media may get a commission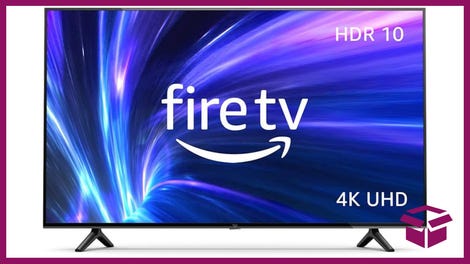 42% Off
Amazon Fire TV 50" 4K Smart TV
Hull Zero Three, Greg Bear (Orbit)
Being woken by the alarm clock at 7AM on a Wednesday morning is bad enough. Teacher was supposed to remain in deep hibernation all the way to his far-distant destination. But he's just been catapulted out of Dreamtime into a damaged, dangerous spaceship, way ahead of schedule. He teams up with his fellow confused early risers, and together they attempt to work their way to the control room and figure out what's happened to the ship. Bear's latest novel looks cryptic, disorienting and thrilling.

The Habitation of the Blessed, Catherynne M. Valente (Night Shade Books)
Catherynne M. Valente's new novel brings to life one of the great prevailing legends of the Middle Ages. Sometime in the 12th century, a letter emerged and electrified Europe. This document told of a miraculous kingdom to the East, home to such delights as the fountain of youth and ruled by a priest named Prester John. In truth, it was that era's version of science fiction — but Valente imagines if the kingdom were real, and an 18th century missionary stumbled upon the evidence. Anyone interested should definitely check out Valente's Action League Now-style explanation of the underlying theology.

Songs of Love and Death, ed. George R.R. Martin and Gardner Dozois (Gallery)
Love's tough under the best of circumstances, but nigh on impossible if you're the star of one of the stories in Songs of Love and Death . The collection brings together some big names from the fantasy, science fiction, and romance fields to tell stories of star-crossed love. Neil Gaiman offers up a creepy encounter with an ex-girlfriend, and Diana Gabaldon follows an RAF pilot's attempts to return home from the 18th century of her Outlander novels. Other contributors include Jim Butcher, Marjorie M. Liu, Jacqueline Carey, Tanith Lee, and Jo Beverley, and it's all edited by anthological masters George R. R. Martin and Gardner Dozois.

Empress of Eternity, L.E. Modesitt (Tor)
Modesitt's latest takes place on a grand scale, with characters stretching across immense distances. Unifying them is their interest in an inscrutable canal carved across the face of the Earth. It's enormous and indestructible and thoroughly mysterious, and three teams of scientists from vastly different civilizations are trying to puzzle it out. No one's quite sure what to make of the thing, until one planet's religious conflict threatens to engulf the entire universe, and the canal-builders are forced to react.

Luka and the Fire of Life, Salman Rushdie (Random House)
Rushdie's fantastical, stand-alone sequel to Haroun and the Sea of Stories recounts the adventures of 12-year-old Luka in the World of Magic. His father has fallen deathly ill, and so the boy hopes to the powerful Fire of Life. His guide? Nobodaddy, his father's ghostly alter ego. It's a fable structured like a videogame, and it'll be interesting to see what a writer of Rushdie's caliber does with the form.

Seed Seeker, Pamela Sargent (Tor)
With Seed Seeker, Pamela Sargent concludes a trilogy she started back in 1983, with Earthseed. Centuries ago, a sentient generation ship planted humans on a distant world. Now it's just Home, and the people have split into rival factions. Some have remained in great Domes, maintaining deteriorating Earth technology. Others have incorporated local DNA and adopted a low-tech, agrarian life. When a mysterious light appears in the sky, villager Bian sets out to see whether it's the ship returning, while Dome-raised Safrah wonders the same thing and knows they don't have the tech left to find out. Check out io9's review here.

Echo, Jack McDevitt (Ace Hardcover)
In the fifth Alex Benedict novel, the far-future antiquities dealer stumbles onto an innocuous-seeming stone tablet which, naturally, is nowhere near as harmless as it looks. In fact, it may be evidence of an advanced alien civilization. It goes without saying that Benedict and his assistant must uncover the truth, and that it'll be no easy matter with an assassin dogging their every step.

Flaming Zeppelins, Joe Lansdale (Tachyon Publications)
This farcical adventure combines two previously published novels into one exercise in craziness. The first follows the Wild West Show and its colorful cast of characters—Annie Oakley, Sitting Bull, Buffalo Bill Cody's head (now attached to an automaton)—as they venture forth, via zeppelin, to Japan. Mayhem ensures. The second half follows the further adventures of one mayhem survivor, Ned the Seal, after he's rescued by Mark Twain and Jules Verne. The authors aren't exactly spring chickens any more, but they've taken it upon themselves to beat back a Martian invasion. Because that's what stupendously popular writers do in their retirement.