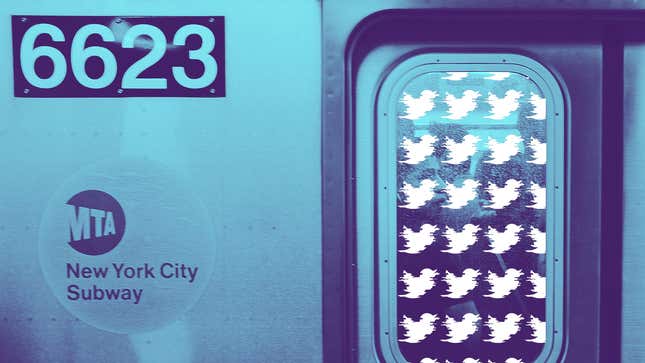 Twitter became less useful on Thursday after New York City's transit operator said it would stop tweeting about service outages because "the reliability of the platform can no longer be guaranteed." It's the latest in a growing number of government agencies ditching Elon Musk's social network.
How To Remove Followers From Twitter
The city's Metropolitan Transportation Authority, or MTA, told Bloomberg that Twitter had asked it to pay $50,000 per month to keep its access to the platform's API, which many public agencies use to send out automated alerts about issues ranging from transport interruptions to dangerous weather events. Access to Twitter's API used to be free before Musk bought the platform and decided to start charging people to try to make money.
Accounts that used to send out alerts about outages for the MTA's buses, Long Island Rail Road, and Metro-North Railroad, among others, will no longer provide that information—effective immediately.
Shanifah Rieara, MTA's acting chief customer officer, told Bloomberg that the cost to use Twitter's API to send out alerts just wasn't worth it. The MTA said its access to Twitter's API had been "involuntarily interrupted" twice in the last two weeks.
"I don't think it would be the best use of resources, especially when we have these other features and functions that are internal and homegrown and that are reliable that we want our customers to use," Rieara said. "We want to communicate with our customers through all platforms, but we need a platform that is reliant and consistent and up to date."
In a statement on the MTA's website, Rieara stated that the transport operator does not pay platforms to publish service information. She added that the MTA had already invested in creating free tools to monitor service outages in real-time, including its website, email alerts, the MYmta and TrainTime apps, and text messages.
The operator isn't leaving Twitter completely. People will still be able to tweet questions and comments to MTA-managed accounts.
The MTA isn't the only public agency that has been affected by Musk's attempt to monetize Twitter. In recent weeks, the National Tsunami Warning Center warned that limits to its API access meant it could no longer post all tsunami warnings and urged its followers to enable multiple notification methods.
Independent pollution trackers and storm trackers also reported losing API access or not being able to post real-time information.