President Obama is in Alaska this week. There, he plans to hike up a glacier, then shoot an episode of Running Wild with Bear Grylls. That should be fun. Elsewhere, REI has discovered Instagram and LA's own millennial miner is in legal trouble. This is What's New Outside.

President Obama's Great Alaskan Adventure: He should touch down in Anchorage shortly, kicking off a three-day adventure that somehow makes time for speeches, meetings, renaming the tallest mountain in North America, glacier climbing and, get this, he's also filming an episode of Running Wild With Bear Grylls.

Airing later this year, the episode will highlight how climate change is affecting Alaska while the two bro down with some outdoor adventures. It'll be interesting to see just how hardcore the pair is able to get, while I was incredibly impressed by the degree to which Bear's team was able to reduce risk when the two of us hung out last year, that doesn't mean the Secret Service or White House will feel the same. Fingers crossed, those two climbing mountains together could make for really good TV. [USA Today]

REI For City Kids: "It will not stand!" Shouted an REI exec, during a board meeting. He wasn't actually angry, reception was just poor as he phoned into the meeting from his kayak. "No way are we letting someone else sell last decade's camping gear to kids, for twice what it should cost. Get me that market!" It was Poler he was referring to of course, the plucky startup from Portland that's specialized in putting logos and camo patterns on has-been tents and trucker caps, then selling it all out of Urban Outfitters. REI's answer? They're just going to sell the same crap, but seem to be missing the point that young people who live in cities don't frequent big box stores in the suburbs. But hey, at least they got our irrational fear of vowels right. [REI]

D'oh: Watch the above video about a dude panning for gold just outside LA. Wait, you can pan for gold just outside LA? Of course not, as Modern Hiker points out, mining in the San Gabriels is totally illegal. Way to blow up your spot, bro. [Modern Hiker]
G/O Media may get a commission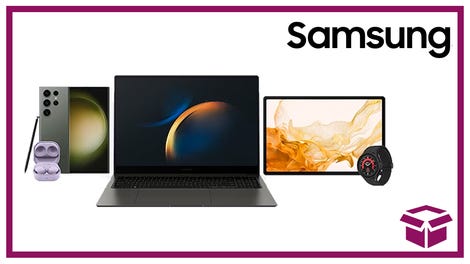 24 hour deals
Discover Samsung - Daily Deal
Mountain Bike Tires As Shoe Soles: Take my favorite trail runners — the Adidas Outdoor Terex Boosts — and swap their already grippy Continental rubber sole for one patterned after that company's best mountain bike tires. The Terrex X-Kings go on-sale next year; I can't wait to try a pair. [The Gear Caster]
What We're Up To: I'm about to drive down to Calexico for the opening day of dove season. It'll be my first chance to use that shotgun my girlfriend's dad gave me on game, so I'm looking forward to making him proud. Dragging along the Abercrombie too, because why not? Meanwhile, Chris is winging his way to Alberta for a date with Jimmy Chin. No really, they're going to be sharing a tent. You'll be reading about both trips soon!
Watch This:
IndefinitelyWild is a new publication about adventure travel in the outdoors, the vehicles and gear that get us there and the people we meet along the way. Follow us on Facebook, Twitter, and Instagram.