President Barack Obama and former Massachusetts governer Mitt Romney will go head to head in the 2012 presidential election, as you're probably all too aware, given that this campaign already feels like it's been going on for five years.
The two contenders also doing battle as DJs on the fields of Spotify. No, we are not making this up.
First, Obama (or more likely his staffers) put together a playlist including such laughable nonsense as Darius Rucker, announced on Obama's official Twitter account. That link no longer works, either due to his team deleting it out of embarrassment (although, granted, most of it was pretty good, "Hootie" aside) or due to some sort of technical glitch.
In response, a guy named Brian Ries put together a fictional Romney playlist on Facebook, featuring all songs with the word "money" in the title.
G/O Media may get a commission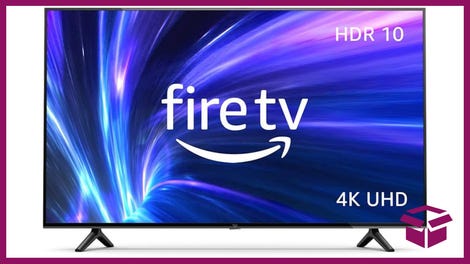 42% Off
Amazon Fire TV 50" 4K Smart TV
Naturally, that was followed by an official Romney Spotify playlist that reportedly kicked off with The Soggy Bottom Boys' "I Am A Man Of Constant Sorrow." That one apparently appeared on Romney's Facebook page although we couldn't find it there just now.
Not to be outdone, the Obama campaign announced this week that it would launch another Spotify playlist - this time consisting of songs chosen by his supporters. Instead of running this as a collaborative Spotify playlist, which can require intervention to stop people from messing with it (see our collaborative Spotify playlists for Hurricane Irene and SOPA/PIPA), the Obama campaign has set up a web form through which supporters can send their requests.
I just requested Junior Byles' "Beat Down Babylon." What's your pick?
Or, if you're a Romney supporter, you probably won't have to wait long until he starts taking requests too. In what arena are these two not competing? We hope the fun continues; if so, we'll let you know.
Evolver.fm observes, tracks and analyzes the music apps scene, with the belief that it's crucial to how humans experience music, and how that experience is evolving.