Back in April, Dropbox introduced a standalone app for viewing and sharing photos. Carousel was an exciting prospect, harnessing the power of Dropbox's popular cloud storage. It was also kind of a mess. Lo and behold, over a series of recent updates, Carousel has fixed almost everything that was wrong, and is now a joy to use.
Just to be clear, Carousel's first impression was aggressively bad. Horrendous layout inconsistencies and awkward gesture schemes made me cringe. Its sharing options tried to box you into a Dropbox-managed conversation system that nobody wanted to use. And in general it just didn't give you any compelling reason to choose it over any of your other dozens of options.
Change has come slowly. Although there was never one major overhaul, a series of small updates solidified its core features over time. I found myself opening the app more and more. With another update dropping just yesterday, it hit me that this little app is all of a sudden great, with almost everything I complained about delightfully remedied. Here's what's changed.
Thank the gods, sharing is now actually easy. No more annoying swipes you can't remember leading to a proprietary sharing scheme nobody uses. Now, selecting a photo immediately gives you familiar icons that let you share to SMS, email, Facebook, and many other services. You can also save to your camera roll quickly, whereas in prior versions you had to tap at least four different times to access a save option.
G/O Media may get a commission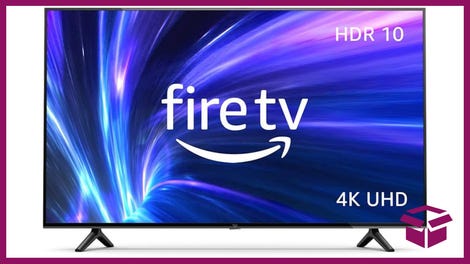 42% Off
Amazon Fire TV 50" 4K Smart TV
Layout has been significantly improved, with all the barren white space eliminated:
You can now delete photos permanently, instead of just "hiding" them from showing up in the app. And when you share a photo via text or email, you are actually sending the photo, not just a Dropbox link. Makes sense!
All-in-all, nice job, Dropbox. Not that there aren't still ways it could be improved. I'd love some options for viewing EXIF data, and organizing photos based on variables other than date taken. Nobody's perfect. But if you're a Dropbox fan and (rightly) dismissed Carousel when it launched, now is a good time to give it a second look.