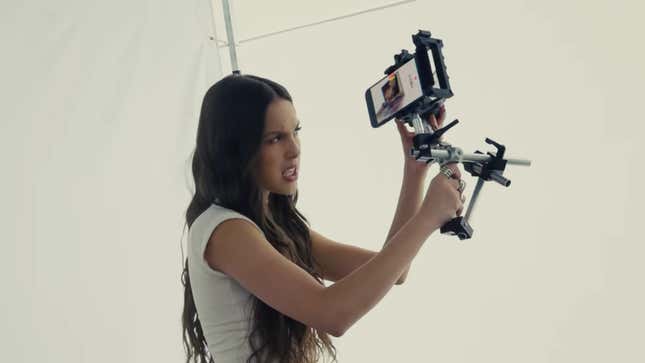 Olivia Rodrigo is continuing her reign as Gen Z's tech mogul, but this time she's partnering with Apple. The angsty singer-songwriter released a brand new music video for her album GUTS that was shot entirely on the newly announced iPhone 15 Pro.
Apple Unveils Its iPhone 15 and Apple Watch Series 9
The music video is for the track "get him back!" in which Rodrigo muses about her wishy-washy feelings toward a less-than-stellar ex-boyfriend (we've all been there). The video was announced by Rodrigo yesterday and was released following Apple's Wonderlust event, during which the newest generation of the iPhone was unveiled. A behind-the-scenes clip posted by Apple shows us a glimpse of how the video was shot with the iPhone 15 Pro strapped into an external gimbal, smashing through car windows, and being whipped around by Rodrigo herself.
Apple flexed the iPhone 15 Pro's new camera system pretty hard at yesterday's event, with the company claiming that the phone's camera is the best one yet. The Pro model features three backside cameras: a 48-megapixel Main camera, a 12-megapixel Telephoto camera, and a 12-megapixel ultra-wide camera. This suite of lenses, coupled with features like new, longer zoom and LIDAR-enhanced Night mode, offers users the chance to capture incredibly high-quality and detailed images and video.
The company also touted the new USB 3 capabilities on the iPhone 15 Pro, which will allow for faster data transfer of raw photo and video files to a Mac environment. It can also record video directly to an external storage drive, which can boost the phone's 4K ProRes video format from 30 to 60 frames per second. And it's the only smartphone to offer support for the Academy Color Encoding System (ACES), a global standard for color workflows.
Rodrigo is not the first popstar to collaborate with Apple on a new phone release. In 2019, Apple partnered with Selena Gomez during the release of the iPhone 11 Pro—Gomez used the phone to shoot the videos for her singles "Lose You to Love Me" and "Look at Her Now." South Korean group NewJeans also released a music video for their song "ETA" which was filmed on the iPhone 14 Pro. And many legitimate filmmakers have taken to shooting on iPhone, most notably Steven Soderbergh.