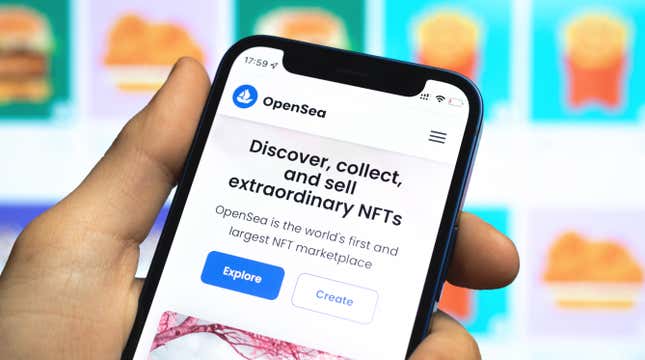 The crumbling crypto empire that tech bros everywhere once hyped up has now claimed another victim. Nathaniel Chastain, former Head of Product at leading NFT marketplace OpenSea, has been sentenced to three months in prison for insider trading.
The U.S. Attorney's Office in the Southern District of New York announced the arrest in a release yesterday, calling the sentencing the "first-ever digital asset insider trading scheme." Chastain was arrested for insider trading after he allegedly used confidential knowledge of what NFTs would be featured on OpenSea's homepage, and faced previous convictions of wire fraud and money laundering. The 31-year-old ex-OpenSea executive is also facing three months of house arrest, three years of parole, a $50,000 fine, and is being forced to forfeit the Ethereum profit he made from selling NFTs.
"Nathanial Chastain faced justice today for violating the trust that his employer placed in him by using OpenSea's confidential information for his own profit," U.S. District Attorney Damian Williams said in the release. "Today's sentence should serve as a warning to other corporate insiders that insider trading—in any marketplace— will not be tolerated."
Chastain was first convicted of insider trading back in May. Since Chastain knew which NFTs would be pushed on OpenSea's website, he would purchase those tokens first only to sell them shortly thereafter. This allowed Chastain to rake in approximately $50,000 in profit from June 2021 until September 2021, when he left the company.
Chastain's conviction is one of the final, exasperated breaths of a once short-lived industry that spectacularly imploded once the shiny veneer revealed an ugly (and pointless) underbelly. While OpenSea previously announced that the platform would be cracking down on counterfeit NFTs, the company previously revealed that a large majority of the NFTs featured on the platform were fakes created with OpenSea's lazy minting tool.