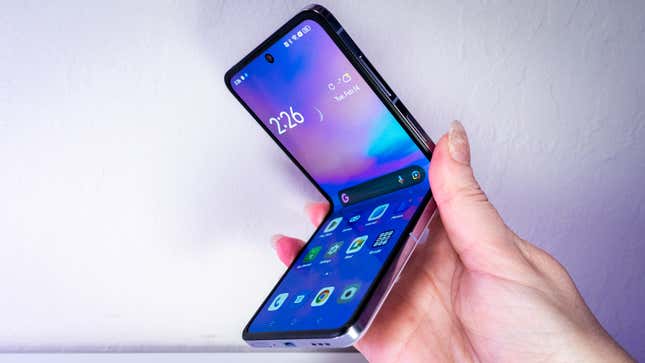 Samsung isn't the only Android manufacturer conjuring up foldable smartphones. Overseas, OnePlus parent company Oppo has announced it's launched the Find N2 Flip. The phone technically launched two months ago in China, but is now hitting shelves elsewhere in the world, like Europe and the UK. While it's not coming to North America officially, curious U.S. customers can import the phone if they want a foldable that's not Galaxy branded (and don't mind not having access to every 5G/4G band the big four carriers make available). It costs about £849, or $1,025. After paying for shipping, that's a little more than the $1,000 starting price on Samsung's Galaxy Z Flip 4.

Oppo sent us the new flipping flagship so I could preview it for the launch. It's pretty nice to hold in person, and finally, I get to experience a foldable from another brand. At first glance, it looks like it's nothing more than Samsung's Galaxy Z Flip 4, but there's plenty here to like. For one, there's a bigger cover screen on the Find N2 Flip, not to mention that it's vertical instead of horizontal. There are also larger camera sensors on the device, complete with Hasselblad branding like on the OnePlus sibling phones we have here in the states. There's also, finally, no gap when the phone is closed. This flip phone's most contentious feature is Oppo's ColorOS, which is generally useable here but could be tuned to take full advantage of this form factor. Hopefully, it's something Oppo considers before bringing this idea to the OnePlus brand in the States.
But first, the specs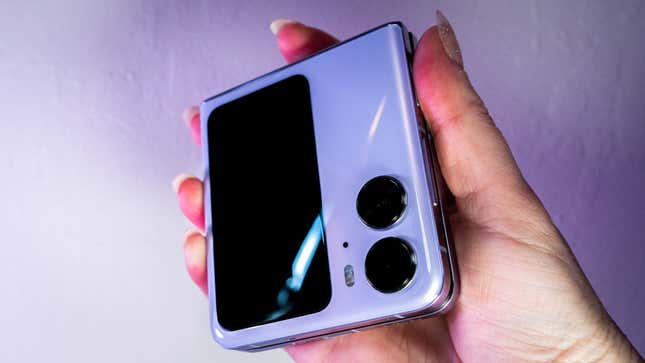 Oppo, known in the U.S. as OnePlus's parent company, is one of the biggest smartphone manufacturers overseas. Its own parent company is widely speculated to be BBK, which also manufactures brands like Vivo, Realme, and iQOO. Despite Oppo not being well known in the U.S., you'll usually see some influence from it carry over into the OnePlus brand. For instance, OxygenOS has picked up much of ColorOS's stylings since the merger in 2021. And that "SuperVOOC" fast charging started with Oppo's phones before it eventually appeared on the OnePus 10T.

SuperVOOC charging is on the Find N2 Flip, too. The Flip includes up to 44W charging with promises of up to a 50% charge in just 23 minutes and a full charge in under an hour (I would test this for you, but Oppo sent me a U.K. plug with the charger, and I do not have a proper converter). Oppo is using this spec to market the fact that its foldable charges faster than any other. That's not hard to imagine considering the numbers we saw on the OnePlus devices with this same charging technology. The battery is 4,300 mAh, much bigger than the 3,700 mAh pack on the Z Flip 4. There's no wireless charging, unlike on Samsung's devices.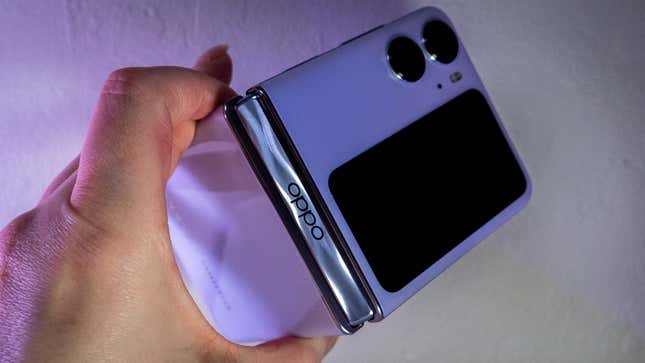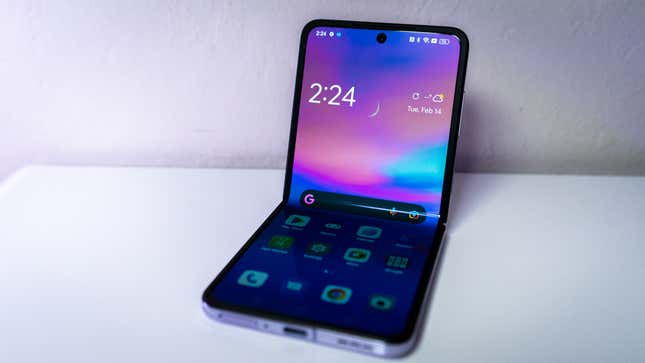 Oppo's Find N2 Flip doesn't use a Qualcomm chip. Instead, it relies on the MediaTek Dimensity 9000+, that company's second-generation flagship chip. MediaTek is typically known as a mid-tier performer that's bundled on the most affordable phones and tablets. But the Dimensity 9000+ has positive marks so far from other outlets who've gotten more time with it. This is my first time with a MediaTek processor of this caliber, so I'll have to speak about its endured performance at a later time. However, in Geekbench 6, it scored 1,105 and 3,200 in single-core and multi-core tests, respectively. Our prior benchmark tests are still from Geekbench 5, as the suite just got updated this week, but that places it on par with the Motorola Edge+. There's also 8GB of RAM, which is about the same as the Galaxy Z Flip 4, along with 256GB of storage, which is a good default number right out of the gate.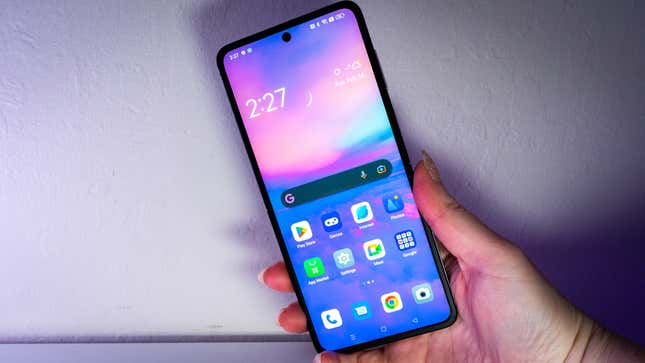 The rear camera on the Oppo Find N2 Flip is a 50-MP sensor paired with an 8-MP ultrawide lens. There's also a 32-MP selfie camera inside for video chatting with the screen open. Like OnePlus, there's Hasselblad branding emblazoned all over the camera. I snapped a couple of photos with it, and the color tuning seems on par with the OnePlus 11. Images appear more "natural" rather than overprocessed, the way they might on a Samsung foldable, as that company's notorious for its saturation algorithms. There aren't as many zoom options on this particular device because of the lack of a dedicated telephoto lens, but the point of this device is for filming yourself rather than the world around you. Like on the Z Flip 4, the phone's outer screen means you can use its more powerful rear camera as a selfie cam.

The front screen on the Find N2 Flip is also much bigger than Samsung's. It's a 3.26-inch vertical screen rather than a 1.9-inch horizontal one, which makes filming those confessionals for social media easier. My biggest gripe with the Z Flip 3/4 is that you can't fully see yourself on the cover screen if you're filming something in 9:16 for posting to TikTok and Instagram Stories. There's a reason that's now an included ratio on so many camera apps—that's how you view content in a phone app.

The Find M2 Flip's cover screen lets you see the whole shot as you're chatting with yourself—the software will even suggest if you should flip over the phone for a better angle. I thoroughly enjoyed the larger cover screen for getting the perfect shot when filming or snapping selfies, but I'm a little annoyed that there is no quick launch shortcut for the Find N2 Flip's camera like there is on the Z Flip 4. Double-pressing the power button only brings up the camera app when it's flipped open. Instead, I have to unlock the cover screen with my face, swipe through until I get to the camera panel, and then select the camera mode I want to use. The whole point of having this sort of form factor in the hand is to do things quickly and on the go. Right now, there's too many steps to set up a shot.

When splayed open, the Find N2 Flip is a complete 6.8-inch screen smartphone with a 120Hz refresh rate. It feels nice and snappy upon setup. But again, I've had this phone running for only a few days. The phone runs ColorOS based on Android 13, which looks and feels like OnePlus's OxygenOS since Oppo took over the reins. It's acceptable for everyday use, though its stylings are not my favorite (if I could have my perfect Android interface, it would be Google's Material You stylings on Samsung's feature set). At the very least, it allows for interface customization with color accents and icons.
Oppo Find N2 Flip vs. Samsung Z Flip 4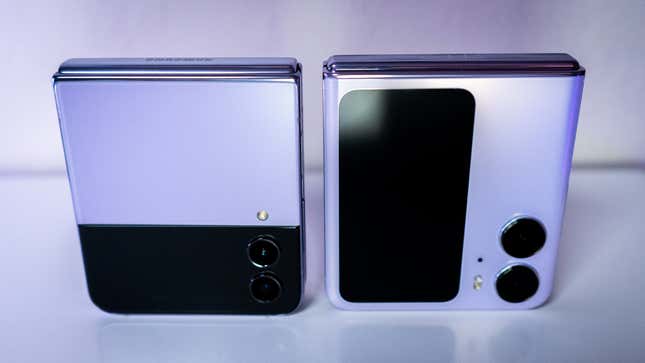 Many of the differences between the Find N2 Flip and the Galaxy Z Flip 4 are minor, but they speak to some of the issues Oppo could face if it adopts a similar strategy for OnePlus down the line. The cover screen is one of the more significant examples of Oppo needing more care. Just like with the lack of a quick launch for the camera when the phone is clamped shut, the phone's overall software doesn't seem particularly tuned to this form factor. Meanwhile, Samsung developed One UI to work with the Flip/Fold. Part of the reason I wrote such a glowing review of the Z Fold 4 is that One UI understands when it's morphing form factors. It doesn't always feel like the Find N2 Flip does.

The Find N2 Flip's software does fine with relegating content to the upper half of the screen when watching Pluto TV in a laptop style format. It even does the same for the camera app if you're using the other half of the phone as a tripod. But there's nothing else encouraging you to use the software that way. On the Z Flip 4, for instance, Samsung lets you use the bottom part of the screen when it's in tripod mode as a touchpad to scroll through a carousel of your latest shots, the way you might survey images after a photo shoot with a DSLR's back display.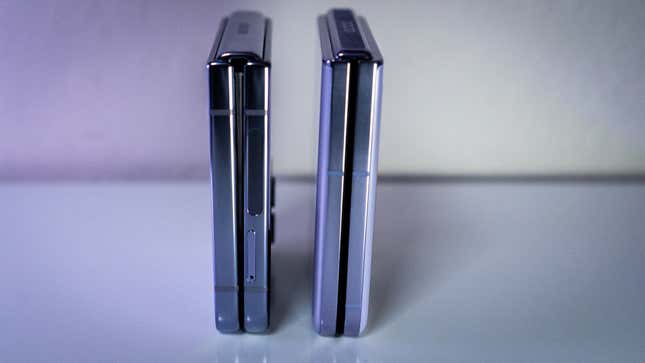 Regardless of where the software can be improved, the Find N2 Flip is a beautiful piece of kit. It's what I'd like to see more of from foldables. I love the iridescent sheen of the Find N2 Flip's chassis. The color flows between pink and lavender depending on the angle of the light hitting it—it tickles my inner Y2K. I also like that Oppo figured out how to close the gap between the two panels as the phone is shut closed. Samsung's Galaxy Z Flip 4 often gets dinged for that space in the middle of the phone. The Find N2 Flip is also a little thinner than the Z Flip 4—by nearly a millimeter—though both phones are bricks if you put them into a linen pocket.

Oppo's smartphone design has always been more generally accessible than OnePlus'. I'm not sure what a OnePlus foldable would look like if it were here in the U.S., or if it would even adopt Oppo's stylings. But considering the gorgeous emerald green color the OnePlus 11 launched with, I can easily envision a foldable in that same colorway. OnePlus teased a concept of a foldable device during the OnePlus 11 launch in London earlier this month. But with Oppo having had a headstart to the game with a few generations of the Find and the promising nature of the Find N2 and N2 Flip, Samsung will have to step it up to keep up with the competition as it moves overseas.