Are you caught up on Orphan Black? If not, you might want to finish your binge watching before tomorrow night's second season premiere—because it's going to spiral us into a whole new level of clone-based mysteries. Here's our spoiler-free review of Season Two's first episode.
Spoilers for Orphan Black Season One.
The More Things Change, The More They Stay The Same
The new season picks up roughly where the first season finale left off: Siobhan and Kira are missing. Alison has made a deal with Dyad and she's reeling from Aynsley's death. Cosima has learned that she's suffering from the same respiratory illness Katja had and that Dyad has claimed the clones as their intellectual property. Paul is working for the Dyad. Sarah just flipped off Rachel—and Rachel is pissed. Art and Angie have learned about the existence of Alison, a woman who looks exactly like Beth, Sarah, and Katja.
Our characters have experienced some major life changes, but they are still very much the same characters we met at the beginning. The Season Two premiere finds Sarah in the same position she was in during the pilot; she's still fighting for Kira, just at a much higher level. Sarah is still a con artist at her core, and her inner cheat and liar bursts through brilliantly whenever she feels backed into a corner. Right now, she's in a very tight corner. Cosima, meanwhile, is still struggling with her curiosity and her values as a scientist—and what her relationship with Delphine means. And Alison has that pesky murder-by-inaction nagging at her conscience, but she's still the lady who thinks that all problems can be solved with a glue gun (even if that glue gun isn't being used for its intended purpose).
What we will be seeing in the premiere is a shift in relationships. Alliances are tricky things in the world of Orphan Black, especially when lovers (and ex-lovers) are sitting on opposite sides of the fence. But even when they aren't dealing with a Dyad vs. Clone Club divide, our characters still have to decide how much they want to know about what's going on, whom they can trust, and who is useful to them. The premiere won't reveal how all those relationships shake out, but it will show tensions in some and larger changes in others. It will be interesting to see how it all plays out over the course of the season.
G/O Media may get a commission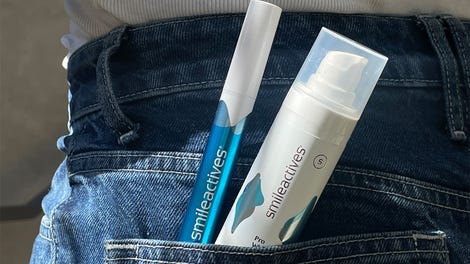 58% off
Whitening Powerhouse Pen & Gel Duo
New Faces (And Not Just Tatiana Maslany's)
Rachel was a bit of a cypher at the end of Season One, cool, professional, a woman used to being in control. We'll get to know Rachel a little bit more in the premiere, including her strengths and weaknesses as a potential adversary. But it's not just the new clone we have to watch out for; in the first few minutes of the episode, we'll meet someone new, someone who adds a new wrinkle to all this craziness.
Season Two also wastes no time bringing us into the deeper into the Dyad—and let's just say that I don't envy our Clone Club roster.
It's Still Immense Fun
We love Orphan Black because it's a thickly knotted scifi thriller with some smart things to say about genetics, identity, and family. But we also love it because it's fun and it's funny. We love to watch Sarah scheme. We love Cosima putting things in a scientific context. We love Alison's uptightness, especially when she plays off the freewheeling Felix. We love cases of mistaken clone identity. The producers clearly know what we love, because it's all still there with clear signs that there is more to come.
Of course, we worry that the producers will also break our hearts, especially when it comes to Cosima.
More Twists Than Cosima's Hair
Okay, maybe not that many twists, but it's clear from the premiere that we're in for some big surprises this season. I don't want to give anything away, but Orphan Black fans are going to have a very interesting Saturday night.