In 2017, we laughed, we cried, we screamed frustrations into the void and prayed for all nazis to be punched into oblivion. But mostly, we made videos. And by "we" I mean the video team here at Gizmodo. To welcome 2018, we've rounded up our favorite videos of the year. It's a spread that covers everything from polio to butter. There are even puppets involved.
---
Best in Show: The Last Of The Iron Lungs
Well... hopefully the last.
Paul Alexander spends nearly every hour of every single day trapped in his iron lung, forcing his body to breathe. And in some ways, he's also trapped in the past.
This story was a really important one to tell. Our reporter Jennings Brown gracefully captured the range of emotions of a man encapsulated by a sickness. Translating that to video wasn't easy, but the response confirmed our initial thoughts: it was a story that people needed to hear. This man's life would've been completely different if he's only been able to access the polio vaccine. GET YOUR KIDS VACCINATED, PEOPLE.
-Danielle Steinberg, Senior Producer
---
Best Puppet-Related Report: Restoring Jim Henson Puppets
All it takes is one look at my avatar—which shows me hanging out with Cookie Monster—to gauge my feelings on Muppets. This video makes me all tingly with nostalgia and makes me question what the hell adults were thinking branding The Dark Crystal as a children's movie. That shit still freaks me out.
G/O Media may get a commission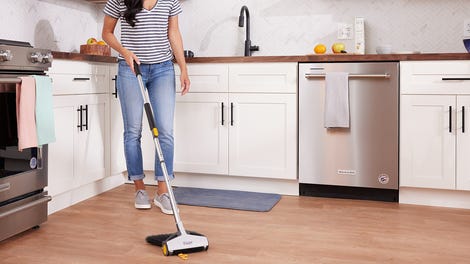 BOGO 50% Off
Flippr - BOGO 50% Off
-Danielle Steinberg, Senior Producer
---
Best Livestream: Teddy Ruxpin 2.0
Livestreams can sometimes be art. This one, developed by social dude Joe Tonelli (a.k.a. Joe Toenails), used the new Teddy Ruxpin in a beautiful, frightening, and appropriate way. Featuring steam from a clothes steamer, Teddy Ruxpin's adventures with the voice in his head (which is named "Grubby") is still one of our favorite livestreams.
-Eleanor Fye, Producer
---
Best Food Thing: The Gadget That Sprays Melted Butter
Can't Believe It's Actually Butter
Bryan Menegus is a great writer and totally down to spray butter into his own mouth for a full 10 seconds, when the production team asks him to. Who says a "pivot to video" is all bad?
-Eleanor Fye, Producer
---
Best Geekout: New York Comic Con Cosplay
Step Off, San Diego. NYCC Cosplay is where it's at.
My favorite part of the job is filming cosplayers. This one was our first roundup, set to a stock music song inexplicably titled, "Cannabis Works" that we found on a site called Jingle Punks. We love it!
-Eleanor Fye, Producer
---
Best One With Fire: Rare NASA Aircraft Footage
Hats off to NASA for taking the time and effort to perform these experiments, all in the name of science. These clips are more than four decades old! Certainly makes you ponder what type of crazy shit NASA must be up to nowadays.
-Raul Marrero, Producer

---
Best Useful Booze: Making Biofuel Out of Tequila
Don't drink and drive. Drive on drink.
Oddly enough, this video spiked my curiosity more on biofuels than it did on tequila. Even though agave isn't the ideal alternative to gasoline-powered vehicles, it did make me realize we're at a huge turning point in the car industry. Perhaps the cars of the future will run on garbage, Vitaminwater or Soylent.
-Raul Marrero, Producer

---
Best Toy-Building Experience: Lego's Millennium Falcon
The Force was pretty strong with this video.
When Lego gave us an early copy of the 2017 Lego Millennium Falcon, the largest Lego set in history, we jumped at the opportunity to take you on a time lapse journey through the exhilarating 7,500-piece build:
It took our reporter Germain Lussier 34 hours over the course of eight days to complete the project. Afterwards, we suggested Germain throw it from the balcony to see if it flies. He refused, only to accidentally break it on his own a few days later. What a wasted opportunity. If we captured the look on his face, we would have skyrocketed way past 2.2 million views.
-Mike Damanskis, Producer

---
Best Sun One: What Will Happen If You Stare At The Solar Eclipse
Not even five pairs of sunglasses makes it okay.
At a time when many companies were saying, "Hey, this solar eclipse is happening, how cool is that?" this video (and the real-life scientist in it) added something extra. It's informative and actually raises safety concerns, even if our own president didn't heed them.
-Kyle Seaquist, Producer
---
Best Clip: President Trump Stares at Sun
He literally did the one thing you weren't supposed to do.

-Kyle Seaquist, Producer
---
Best Bathroom Video: An Amazing Atomizing Shower Head
On staff, we find this video to be endlessly amusing because it's mostly just our news editor Harrison Weber standing in a shower with all of his clothes on. Nevertheless, it's a great review of an interesting gadget that captivated the Silicon Valley elite.
-Adam Clark Estes, Senior Editor
---
Best Battlemodo: Truly Wireless Earbuds
Several people asked why I'm talking about wireless earbuds with a jungle scene in the background. The true story is that we had to film the video in front of a green screen because I wore the wrong color shirt the day we shot everything. The person who edited the video, Mike, randomly picked a jungle background for the green screen. We kept it, because who doesn't love a jungle?

-Adam Clark Estes, Senior Editor
---
Best Animation: The History and Future of Wireless Everything
It's hard to imagine, but the technology that enables your smartphone to talk to the internet is based on innovations that are over 150 years old. With the help of animators Daniel Muñoz and Merielen Burbano, we mapped out the history and future of wireless technology, and while the past is fascinating, the future is mind-boggling.
-Adam Clark Estes, Senior Editor
---
Best Best: Pitching To The Boy's Club
Anything you can do... women can also do...
This is a really eye opening and important look into what it's like to be a woman entrepreneur in Silicon Valley. It's crazy that in 2017 good ideas aren't just good ideas — they're attached to the gender of the person pitching them. It's time to grow up, bros.
-Japhet Weeks, Senior Executive Producer