The Truly Wireless Earbuds You Should Buy Instead of AirPods | Battlemodo
If you'd told me in 2007 that people would be walking around listening to music with wireless, popcorn-sized earbuds, I would've called you crazy. It is now 2017, and these futuristic little gadgets are a reality. But which ones are the best?
Apple's Vision Pro Seems Powerful, But Who Is It For? | Future Tech
Pretty much every major tech company has now released its version of completely wireless earbuds. Apple sells its AirPods for $160. Sony has the WF-1000Xs at $200. Bose is offering its SoundSport Free for $250. These are the best three we've tested to date. You can also buy wireless earbuds from Beoplay, Jaybird, and Google, but you might be disappointed, as they each have their own problems. The Beoplay E8s are weirdly bulky, and the Jaybird Runs have connectivity issues. The Google Pixel Buds have a wire tying them together, among other problems.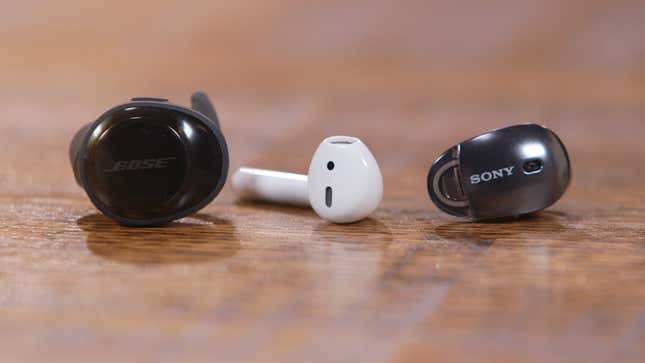 But back to the good ones. The truly wireless earbuds from Apple, Sony, and Bose all offer impressive sound quality for such tiny buds. There are some caveats, like the AirPods' inability to block outside noise and the minimal noise-cancelling feature on the Sony earbuds. Nevertheless, you can expect the same top-notch audio fidelity on all three sets to rival those on any high quality wired earbuds.
The comparable sound quality is why we focused on fit and connectivity in comparing the three sets of buds. Those that stay in our ears and connect seamlessly are the best.
---
Which fit the best?
We've been testing truly wireless earbuds for a couple years, and almost all of them suffer from the same problem: they don't stay in your ears. This is a big problem, too, since an earbud falling out of your ear can lead to an earbud being lost forever. One Gizmodo writer experienced this very horror when a bud dropped from his ear down a storm drain. He never saw it again.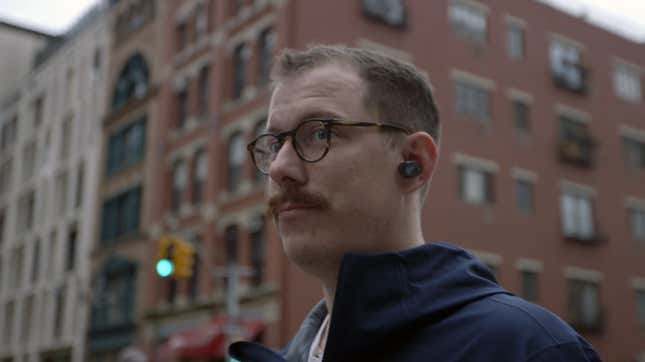 Luckily, the newest generation of wireless earbuds fit better. For this battle, we squeezed each bud into our ears and then performed some vigorous activities like jumping jacks and head-banging. The Apple AirPods performed the worst. Since each bud simply rests on your ear, any amount of shaking sent them flying. The Sony WF-1000X fared slightly better thanks to a tighter seal in the ear canal, but still jostled loose after a few head shakes. The Bose SoundSport Free? Well, we couldn't get them to fall out no matter how hard we tried.
Winner: Bose SoundSport Free
---
Which stay connected?
All three of the truly wireless earbuds are tiny. It's incredible that engineers figured out a way to squeeze the guts of a wireless earbud—including drivers, a battery, and an antenna—into something that's just slightly larger than a macadamia nut. That said, it wasn't a surprise when we found that some of the earbuds would struggle with connectivity from time-to-time.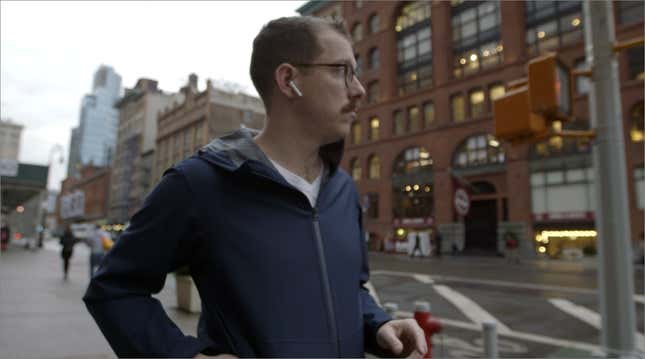 To test out how well each set stayed paired to a phone, we walked down a busy Manhattan street and simply counted the number of times they cut out. This is a tough test for the earbuds, since New York City has notoriously busy airwaves and, thus, lots of interference. Nevertheless, all three performed well. The Sony buds cut out twice on a five-block-long stretch. The Bose cut out just once. And the AirPods stayed connected the whole time.
Winner: Apple AirPods
---
Which should you buy?
Go for the Bose, if you can afford it. At $250, they're the most expensive truly wireless earbuds we tested, but you're paying for tremendous quality. In addition to the great fit and connectivity, the SoundSport Free earbuds are also water resistant which makes then great for exercise.
Apple fans could also consider the AirPods very seriously. Their connectivity is basically flawless, and the buds themselves looks sleek in that iconic, Apple sort of way. You'll also enjoy how small the charging case is compared to the other buds. For $160, you'll even save a few bucks over the Bose or Sony buds.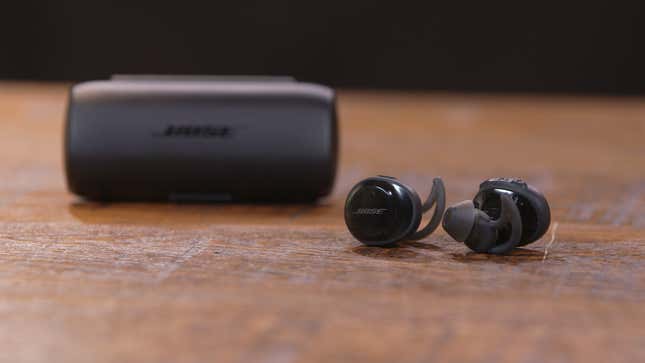 Here's the thing. You're actually getting a lot more for the extra $90 you'd spend on getting the Bose SoundSport Free earbuds instead of the AirPods. Not only do they stay in your ears, the Bose buds are better at isolating noise and work really well during exercise, since they're water resistant. The AirPods, however cheaper, fit so loosely that they feel like a liability, and they're not water resistant. And since it will cost you $70 to replace a single lost AirPod, you're one accident away from spending the same amount as you would on the Bose earbuds upfront.
So even though the AirPods performed slightly better in the connectivity test, there are plenty of practical reasons why you should go with Bose.
Winner: Bose SoundSport Free