Fox has just snagged the television rights to Pathrick Rothfuss' awesome, best-selling fantasy series The Kingkiller Chronicles. That's practically the only news we have, but for those people who have read the amazing first two books, The Name of the Wind and The Wise Man's Fear, it is officially time to freak out.
Here's the Deadline article:
New Regency Productions and 20th Century Fox Television have optioned Patrick Rothfuss' fantasy trilogy The Kingkiller Chronicle to develop into a drama series. Eric Heisserer (Hours, The Thing) is attached to adapt the series and will exec produce. Arnon Milchan, Andrew Plotkin, Brad Weston and Robert Lawrence (Die Hard With A Vengeance) also serve as exec producers. Set in a compelling world where the sharpest minds can master magic, The Kingkiller Chronicles tells the story of Kvothe, a streetwise young man who hopes to one day hunt down the mysterious group that murdered his family.
That's a hilarious brief summary of the series, but whatever. I've got so many questions! Are these guys any good? Do they even like the series? Will Game of Thrones inspire Fox to do the books right? Who will they cast as Kvothe, the gypsy bard turned streetrat turned wizard university student turned destroyer of the world? Will Fox put it on Fox, or FX, or somewhere else? (Man, I hope it's FX. FX is awesome, and it definitely needs a fantasy series.)
Seriously, if you like fantasy and you haven't read these books yet, check 'em out — that way we can all be excited or pissed off together when the show comes out. You know, depending.
G/O Media may get a commission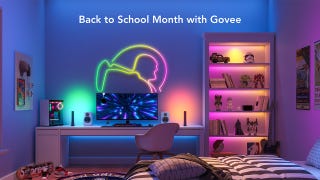 Back to School
Back to School Month with Govee Sale
[Top art by Kim Kincaid]