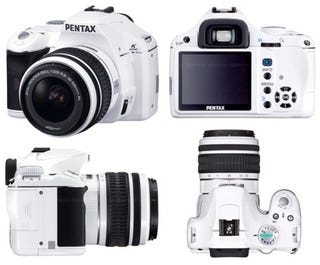 A nice little $100 rebate and a two-year warranty boost are being applied this month to the Pentax K2000 entry-level DSLR and the K20D, respectively. This Dealzmodo expires February 22.
According to a release over at TechCrunch, the rebate is applied across all three K2000 kits:
The K2000 flash kit is dropping down to $600 and that includes the K2000 body, smc DA L 18-55mm F3.5-5.6 AL lens and the AF200FG Auto Flash. A two-lens kit for the K2000 is going for $649.95 and includes the aforementioned 18-55mm lens along with the smc DA L 50-200mm F4-5.6 lens. There's a single lens kit (18-55mm) for $549.95 and the body itself is $499.95.
Crave cameras that look like they were assembled from discarded Stormtrooper parts? This could be the deal you're looking for. Move along! [TechCrunch]