Now you can own a little piece of the past. This gorgeous Toronto home is being sold by its 96-year-old owners, who have had this house in their possession for 72 years. And they certainly decorated the heck out of it. The house looks like it was put in a bubble during the 1950s and 1960s—so great. So, so, so great. The pattern wallpaper alone is simply stunning.
Spied by HGTV, this home is currently on the market and listed by Gladys and Carla Spizzirri for $699,000, which is a pretty low price for a real walk-in time capsule. Here are a few shots:
The Foyer.
Living Room.
G/O Media may get a commission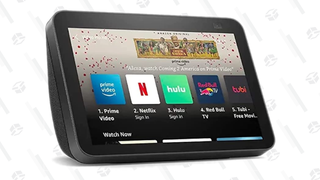 All-pink kitchen. Even the phone is pink.
The Kitchen Nook.
Dining Room.
Top of the stairs.
The Master Bedroom, with PURPLE CARPET and VELVET FURNITURE!
Second Bedroom.
Third Bedroom.
Upstairs Bathroom.
The den, or what my grandmother would call "the rumpus room."
Complete with awesome swords, fireplace and wet bar.
Even the laundry room has a bit of lovely old school charm. Look at all that wood paneling!
Here's the front of the house.
The backyard even has AstroTurf, *clutches chest* my heart!
Many more images over at HGTV. Thanks to Garrison Dean for the tip.