A Peruvian man suspected of six brutal slayings in Japan may be the younger brother of Peru's most prolific serial murderer, a diagnosed schizophrenic known as the "Apostle of Death" because he claimed God urged him to kill.
In 2006, Pablo Nakada Ludeña was captured after shooting at least 17 people (he claimed 25 total victims). He grabbed headlines for his curious motive:
In 2011, he told TV reporters from behind bars: "I am not a criminal, I'm a cleaner, I got rid of homosexuals and the homeless from society. I killed 25 people to clean the world of scum."
Now, it seems, another Nakada Ludeña, 30-year-old Vayron Jonathan, has entered the grim family business, though technically, if he's guilty of his crimes, he'll likely be classified as a "spree" killer rather than a "serial one."
He is the prime suspect in the killings of six people including a woman and her two daughters, aged seven and 10, who were found dead in wardrobes in their home in the residential neighbourhood of Kumagaya, northeast of Tokyo on Wednesday.

An 84-year-old woman was also found dead hours earlier in the bath at her home around 100m away.

A couple in their 50s were stabbed to death in their home in the same local area on Monday.

Vayron Nakada Ludeña is suspected of killing the victims randomly after fleeing a police station where he was being questioned on Sunday, after being found in an incoherent state in a fire station.
G/O Media may get a commission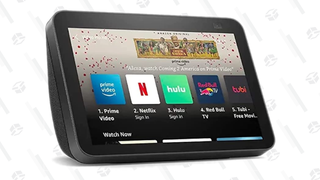 (The Daily Mirror notes that the Tokyo suburb where the crimes occurred has a large population of Peruvian immigrants.)
Based on DNA evidence found at one of the crime scenes, Japanese police obtained a warrant for the man's arrest today. But it may take some time to find out if the younger Nakada Ludeña's motive resembles his brother's. According to the Japan Times, after the fatal knife attack on the family that included the two young girls, the suspect jumped from a second-story window in the house and suffered a fractured skull; he's currently hospitalized in a coma.
Knife image by Morebyless.