Bay Bridge Construction Time-Lapse, 2009-2012
Watch the world's longest self-supporting suspension bridge come together. [Laughing Squid]
---
America's Founding Fathers Really, Really Liked Hemp
Turns out that Kevin Pickford wasn't that far from the truth after all. Kathleen Story from Hemp.com put together a great tale of how our country's founders utilized the crop. [Hemp - Image: Shutterstock]
G/O Media may get a commission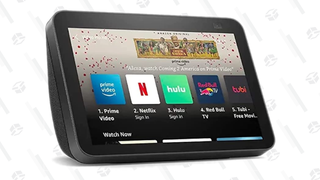 ---
Mr. Teeth Might be the Worst Home Security System of All Time
Police made a startling discovery when they raided a Castro Valley, California home recently:
While at a home on the 19000 block of Mount Jasper Drive, they found 34 pounds of processed dried marijuana and a live - but ill - 5-foot alligator in a Plexiglas tank in the bedroom. The reptile, named "Mr. Teeth," acted as a deterrent against marijuana thieves, said sheriff's Sgt. J.D. Nelson.

Mr. Teeth's owner, Assif Mayr, 32, got the alligator in 1996 "to commemorate the death of rapper Tupac Shakur," Nelson said.
In addition, authorities uncovered a cache of 34 pounds of herb, which the gator was reportedly "guarding." [Nerdcore - Image: MM / Shutterstock]
---
Fair warning: this does not end well[Buzzfeed]
---
It's a Pizza Bong
Insert tired TMNT reference here. [Nerdcore]