Remember that guy who planted over 400 images of child pornography on his boss's computer to get him fired? He just got sentenced to over a decade in prison. Oh, and the boss got his job back. Oops?
To recap: in 2006, terrible person Neil Weiner sent local authorities a CD filled with 177 indecent images of children, claiming that they came from his employer's laptop. When police investigated, they found an additional 235 (!) inappropriate pictures of kids, leading to the swift and wrongful arrest of Weiner's target, Eddie Thompson. It turns out Weiner was responsible for every last bit of it.
Weiner will do 12 years for "perverting the course of justice" and another five for two counts of child pornography. Both sentences will be served concurrently. And for those worried that the punishment isn't harsh enough, the judge in the case made clear the extent to which justice had been served:
He told [Weiner]: "You will go to prison for a long time. The prison population is not renowned for being particularly fair or reasonable.

"You will be suspected by many of being a paedophile and, like Mr Thompson, you may find that you suffer, both in prison and on release, for the rest of your life.
"All these consequences will last for life and the irony is that you have brought them upon yourself by your own deliberate conduct."
G/O Media may get a commission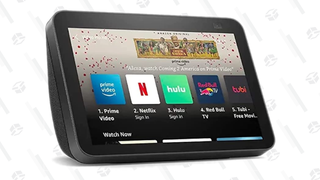 He'll also be placed on the national sex offender's register.
So! Don't do terrible things, or terrible things will happen to you, the end. [Independent]