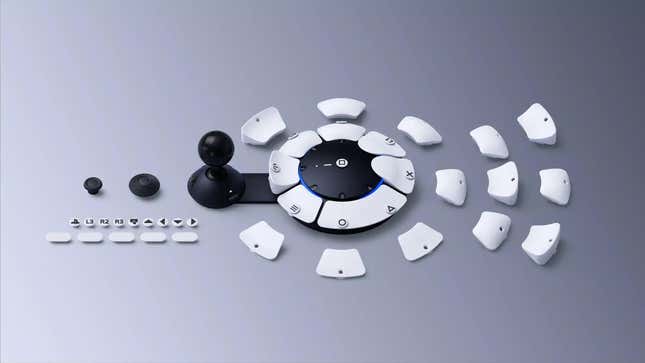 Sony's gaming arm has long been fascinated by shapes. The fact that everybody else labeled their buttons with "A" or "B" meant nothing to the legacy tech brand, as the first PlayStation controller included "X" or "O" buttons instead. Now, the gaming company finally has a release date and price for one of the most intriguing designs out there for a controller—a large, flat circle with swappable keys engineered to be one of the most accessible interfaces on the console market.
Unboxing Marvel's Spider-Man 2 Limited Edition Playstation 5 Bundle
Sony's VP of hardware and peripherals Isabelle Tomatis announced in a Thursday blog post that the company's long-awaited "Access" controller should be here by Dec. 6 and will cost $90 to start. It's just $20 more than a new, regular DualSense controller and significantly cheaper than Sony's $200 Edge controller. Preorders are set to start July 21.
The Access controller is meant to be an accessibility-first option for gamers who have long struggled with your average twin-stick control design. This new device is meant to be truly customizable, with eight slots that can fit 19 different key caps that come in the box. Many of the caps are designed for specific accessible use, such as the wide flat button caps and the other overhanging button caps. One cap that comes with the controller, for example, can cover up two button sockets. You can mix and match different tags to mark the inputs based on your in-game controller mapping.
Then there's the joystick, which can extend out from the Access controller's main body, and comes stock with three different caps, including a ball, standard, and dome end. Users can swap between different controller profiles via a button on the outside of the access controller, and users can also create up to 30 different control profiles and adjust other settings on the PS5 itself.
There's also three 3.5 mm AUX ports which are designed to support external accessories, including additional joysticks or keys. Sony hasn't yet shared news of any external attachments, and any that it does release would be sold separately. Still, the universal nature of the 3.5 mm AUX port means 3rd party developers will likely be able to create any number of useful plugins for the Access. Sony also promised users can pair two access controllers and a DualSense to use them "collaboratively."
We've been very interested in Sony's take on accessibility since the company revealed its Access controller for PlayStation 5 earlier this year. Originally dubbed "Project Leonardo," Sony said it worked with multiple gaming accessibility groups to help design the controller, and the device even comes with a slot for an AMPS compatible mount on its underside, meaning it could be set up on a wheelchair for those with limited mobility.
The Access controller is a welcome addition, as we've been rather disappointed by Sony's peripherals as of late. The recently announced return to PlayStation handhelds was essentially just a DualSense controller with a screen meant for remote play. It will be interesting to test how gamers react to the Access compared to Microsoft's Xbox "Adaptive" controller. We still haven't had the chance to test durability, but we hope these efforts continue to mainstream accessibility in of video games.
---
Want more of Gizmodo's consumer electronics picks? Check out our guides to the best phones, best laptops, best cameras, best televisions, best printers, and best tablets. If you want to learn about the next big thing, see our guide to everything we know about the iPhone 15. Click here to save on the best deals of the day, courtesy of our friends at The Inventory.