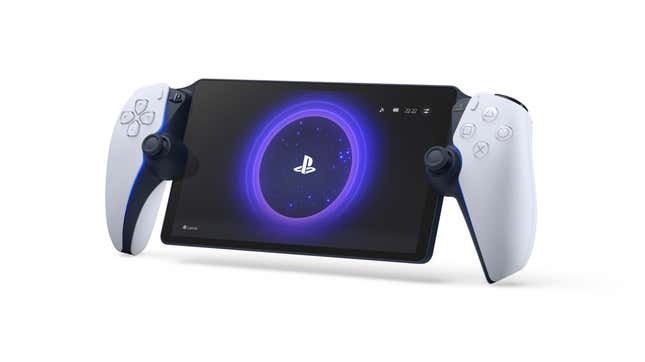 Sony's big DualSense controller with a screen, originally dubbed "Project Q," wasn't the next-gen handheld console we originally hoped for, but new details on what's now being called the "PlayStation Portal" show the device is going to be a Wi-Fi streaming-only device used to remote play your PlayStation 5, and you can't listen to it with your regular set of Bluetooth headphones.
Unboxing Marvel's Spider-Man 2 Limited Edition Playstation 5 Bundle
The $200 PlayStation Portal is described merely as a "remote player." You get all the features of a DualSense controller including the haptic triggers, but it's attached to an 8-inch LCD screen. Sony's VP of Platform Experience Hideaki Nishino said in a blog post that the 60Hz display is capable of 1080p and can play games at 60 FPS.
For actual gaming, you need to connect the device to an existing PlayStation 5 over Wi-Fi or PlayStation Link. The biggest bummer is that the device won't support PlayStation Plus Premium's nascent cloud streaming capabilities.
No 5G options also means you'll be tied down to your local Wi-Fi access point, and of course you'll need to connect to your actual PS5 in order to access any of this content. Users should be able to wake up their PS5 remotely to access its content. Not to mention, two people can't use the PS5 at home and the Portal at the same time. It also won't support PSVR2.
IGN shared a hands-on with the Portal, and the device is apparently lighter than your average Nintendo Switch. Instead of a touch pad like you might find on a regular DualSense controller, there's two touch areas that appear next to each joystick on the Portal's screen. The outlet's reviewer said he didn't experience latency streaming from a PS5, though connectivity could depend on users' setups, especially if they're streaming from a location far away from their current gaming cave.
In effect, it's an upgraded version of the age-old PlayStation Remote Play that lets you stream PlayStation content to another device. We weren't the only ones hoping for some kind of Steam Deck-like handheld console specifically for PlayStation, but Sony's big not-really-that-portable portable outing is increasingly disappointing just based on its limited capabilities. And that's before you get to how Sony has limited third-party headphones on the Portal.
There is a 3.5mm audio jack for wired listening, but the device does not support Bluetooth. This means it won't even work with the PlayStation Pulse 3D headset that came out with the original PlayStation 5. Instead, the Portal uses PlayStation Link, the company's new proprietary wireless audio technology.
These limitations seem like they're made to promote the company's new $150 Pulse Elite headset and $200 Pulse Explore earbuds. Both support AI-enhanced background noise reduction while promising "audiophile-level listening" with planar magnetic drivers. Each device comes with a USB adapter you need to plug into a PS5 to connect to the Portal through Link. Confoundingly, both audio devices still support Bluetooth, and they can connect to both Link and another device simultaneously.
Without testing any of these products, it's hard to say if any of them are worth the price. The PS5 Edge controller was similarly priced at $200 but players complained of battery life issues, likely due to a shrunken battery. However, Sony's listening limitations with the Portal are baffling, and it will turn away most users who don't have a quality set of wired earphones lying around.