Peter Dinklage is not only one sexy Star Wars quoting minx, but allegedly in talks for Knights of Badassdom, a film about LARPers who awake a real demon. Dinklage would make a gorgeous Knight, we'll fight anyone who says otherwise.
Our love for Dinklage knows no bounds, and we're not alone in saying so. His 30 Rock Jedi flirting make this actor one of our all time favorites.
News is now breaking, from Bloody Disgusting, that Dinklage may be in the new film the Knights of Badassdom, and the previous small synopsis has now been fleshed out in a casting call:
A huge group of dedicated, costumed LARP-ers (Live Action Role-Players) , dressed like knights, elves & various characters, give up their cell phones and take to the woods for the Central New Jersey Knights of Badassdom Adventure Society, where they are set to re-enact a dungeons and dragons scenario right out of the mythical Middle Ages.

After being dumped by his sexy girlfriend Beth, Joe reluctantly decides to join Eric and his LARPing friends in the woods rather than stay behind and feel sorry for his newly single status. There he meets hot, ass-kicking, intimidating huntress LARPer Gwen, and finds himself a surreal adventure wilder than he ever imagined when a make-believe wizard casts an all-too-real spell from an ancient book he bought on EBay, releasing an actual demon with a taste for human blood - and souls - that starts systematically decimating the players in this suddenly deadly "game." Will our guys become the heroes they have been pretending to be before time runs out?
G/O Media may get a commission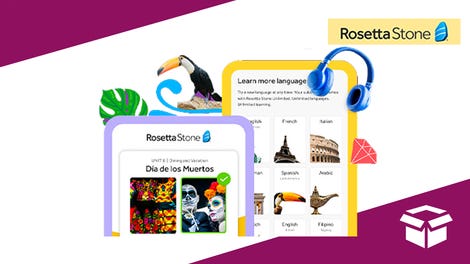 Extra 20% off
Rosetta Stone Lifetime Subscription - All Languages
Let's hope Dinklage takes on the role of Knight or evil demon — we'd be happy with either. The film is being directed by Joe Lynch. Fingers crossed for good casting and hard work — the last film that tackled LARPING in a comical sense was Role Models, and it was pretty hilarious in some instances, and insulting in others, but over all funny and kind of sweet.