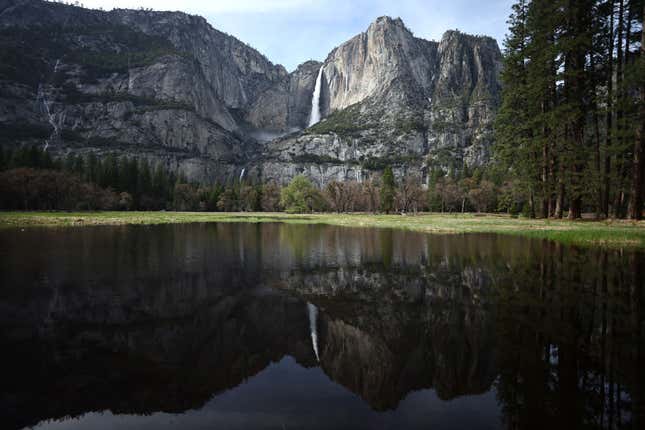 Several popular campsites in California's Yosemite National Park are closed for the second day, as park officials prepare for potential flooding throughout the area this week.
Extreme Weather Events in 2022 | Extreme Earth
"Yosemite Valley is under a flood warning as the Merced River is forecast to reach flood stage every day for the next several days. Lower and North Pines Campgrounds and Housekeeping Camp are closed at least until Wednesday—probably longer," officials tweeted last night.
The campsites were shut down yesterday morning after park officials worried that recent warm weather in the San Joaquin Valley may accelerate snowmelt in the region this week. Officials also said last night that multiple roads are closed today due to potential flooding and that additional closures were possible.
According to National Weather Service Hanford station, the Merced River went from being under a flood watch to a flood warning as of Sunday. The station also said that flood risk is likely to persist for several days. "The California-Nevada River Forecast Center anticipates that Merced River at Pohono Bridge will reach its flood stage of 10 feet by early tomorrow morning and could peak at 13 feet by Friday morning," the Hanford station tweeted on Sunday.
Current conditions in Yosemite are the stark opposite of what park officials were battling in May 2022. This time last year, almost all of California was under extreme and severe drought conditions. But this winter, a series of atmospheric rivers slammed into the West Coast, dumping many feet of snow across California's mountains. At the beginning of this spring, California Department of Water Resources officials found some of the deepest snowpack on record in the Sierra Mountains. The snowmelt that has come from that snowpack has refilled reservoirs that were seeing dangerously low levels last May.
Want more climate and environment stories? Check out Earther's guides to decarbonizing your home, divesting from fossil fuels, packing a disaster go bag, and overcoming climate dread. And don't miss our coverage of the latest IPCC climate report, the future of carbon dioxide removal, and the un-greenwashed facts on bioplastics and plastic recycling.