The folks over at Steelcase have been asking everyone from school children to journalists to technological innovators to discuss their predictions for the next hundred years. The responses have been excellent.
Is AI Moving Too Fast? | Future Tech
You'll definitely want to spend some time exploring the site (I also highly recommend setting aside 20 minutes to watch this featurette, which showcases the predictions and aspirations of 6 children from around the world), but we've rounded up a handful of our favorites here.
Included beside each response is an illustration, created by a student asked to draw what they imagine when they invision the future. You'll find the full collection of illustrations here.
G/O Media may get a commission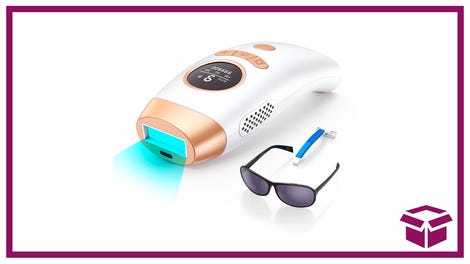 58% Off + Coupon
IPL Hair Removal Device
Paola Antonelli — Senior Curator, Architecture and Design, the MoMA (NYC, United States)
One of design's most fundamental tasks is and has been to help people deal with change. The technological, political, scientific, cultural, moral, universal acceleration of the past century does not show any signs of slowing down. Change might just become a constant, a paradox that will make design even more necessary.
In 100 years, design will therefore be at the center of things, a benign and necessary force in all facets of human experience and research, from politics and economics to science and the arts. Designers will not be identified and subdivided according to their specialty-furniture and interfaces after all will be the same thing in the liminal world to come. On the contrary, like physics, design will be loosely separated between theoretical and applied.
Theoretical designers will be exquisite generalists-a bit like French philosophers, but ready to roll up their sleeves. Applied designers will still work on objects and environments, but they will also visualize complex infrastructures and systems so that scientists, policymakers and the general public can manage and influence them. They will be in charge of making sure that the built world remains at human scale and at the same time remind humans of their rightful and humble position in the universe.
What I really dream of, however, is teleportation…
Illustration by Patrick in NYC, United States
---
Patricia Urquiola — Architect, Patricia Urquiola Studio (Milan, Italy)
I see a future where designers are working on mental comfort. On small details that make our daily life better. Not only from an ergonomic and functional point of view, but also on a social and emotional level. A world where each one of us will have a personalized habitat that suits our identities, our needs and evolves with us in a flexible way.
Where objects are not thrown away, but live different lives.
We will care more about the materials around us and their interaction with our bodies.
How to protect us and control sound and noise, temperature, energy and information waves, light and the elements. Without being isolated, without being subjected in an uncontrollable way.
Some matters will grow spontaneously, mixing organic and inorganic.
A world where we will be able to entrap the conscience of power with a fiction that adapts to our own personal reality. Without the fear or need to imitate someone else. Without true or false models, ideologies and icons.
Illustration by Wu in Shanghai, China
---
John Maeda — President, Rhode Island School of Design (Providence, United States)
In 2112, creativity will be the most valued form of work because creativity is about going against what everyone (including yourself) believes in. By 2112, our minds will be directly connected to computers. We think having Google at our disposal has changed how we think about knowledge retention, but imagine when that knowledge is literally integrated into your being. We will all know all that we need to know, together, by being interconnected with all the information of the world. The answers won't be at our fingertips, they will be within us. And so goes any room for debate.
What will be at a premium in this new world? What will enable us to retain our unique stamp of humanity? Our unique ability to create ideas and concepts that go against the all-powerful norm of the factual. The ways of thinking and working that artists and designers embody so naturally will be in higher demand. They are the ones who are used to flying in the face of reality, of suspending disbelief to come up with what is next. These skills will be universally recognized as how we advance society's future, rather than a nice "add-on" as they are perceived of today. Creativity will be the new currency of work, the world over.
Illustration by Yse in Casablanca, Morocco
---
Joi Ito — Director, MIT Media Lab (Cambridge, United States)
One hundred years from now, the role of science and technology will be about becoming part of nature rather than trying to control it.
So much of science and technology has been about pursuing efficiency, scale and "exponential growth" at the expense of our environment and our resources. We have rewarded those who invent technologies that control our triumph over nature in some way. This is clearly not sustainable.
We must understand that we live in a complex system where everything is interrelated and interdependent and that everything we design impacts a larger system.
My dream is that 100 years from now, we will be learning from nature, integrating with nature and using science and technology to bring nature into our lives to make human beings and our artifacts not only zero impact but a positive impact to the natural system that we live in.
Illustration by Sugus in Dongguan, China
Read more over on Steelcase.