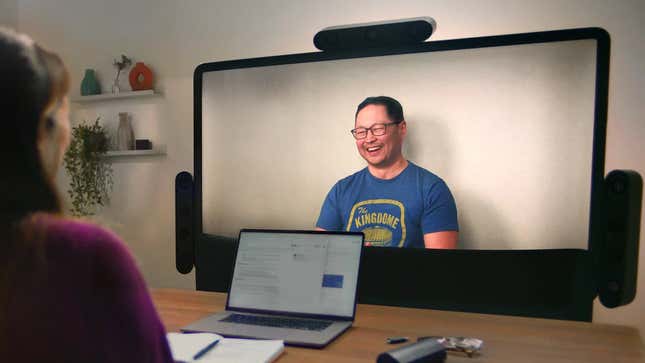 I've been a remote worker for nearly seven years. As much as I appreciate not having to endure the stressful rigamarole of commuting to a city office from a home out in the suburbs, there are times when I feel profoundly lonely. I like bouncing stories off my editors and seeing their facial reactions to understand how they perceive my ideas. I'm also an expressive talker, and sometimes I can't fully emote through text or a two-dimensional video chat. I wish I had something like Google's Project Starline to help me connect with coworkers even though we work on opposite coasts.
Google's Antitrust Case Is the Best Thing That Ever Happened to AI
I like the premise behind Project Starline, a glasses-less 3D video conferencing booth that utilizes a mix of technologies to achieve the effect, including depth cameras, AI-aided 3D modeling, and a light field display. Google originally introduced it at the height of the pandemic. But this week, during its annual Google I/O developer conference, the company announced an update to the Starline prototype that will make it easier to deploy within businesses willing to adopt the technology. It's still in the works and has more kinks to work out than solutions like the Logitech Ghost, but is now much smaller. I got a brief demonstration of it while visiting I/O in person, and while I couldn't snap photos or take videos, I envisioned my work-from-home life being much easier with access to something like this.
Despite the uncanny valley vibes I got within the first few seconds of the demonstration, I realized that what I liked about Project Starline was that it encouraged me to engage. Unlike a webcam chat, where I hardly look into the lens to fake eye contact and stare at the screen instead, Starline made me forget about the cameras so that I could focus entirely on the person in front of me: Andrew Nartker, the lead for the Project Starline team. It's the same awareness I have when interacting with folks person-to-person.
I studied Nartker's projection as he talked me through his presentation. I could see the edges around him forming in real-time as the AI pieced together his likeness from the three camera modules mounted on the Starline display. It reminded me a bit of that scene in Annihilation (sorry, spoiler alert), where you see Natalie Portman devolve into what seems like the living depiction of machine learning attempting to piece together the likeness of a human body. It wasn't as horrfying as in the movie, but it was present enough to catch glimpses of the computer doing its thing if I looked closely. Weirdly, this helped me relax during our demonstration and eliminated some of the anxiety that comes from talking to a real-life person, but your mileage may vary.
Overall, Project Starline is seriously cool, but not yet ready despite being shrunken down (and made to work with regular cameras). Though the idea of a computer rendering your likeness in real-time might freak folks out, it's better to envision an eventual final version of this as a more engaging 3D version of the webcam you already use. I think about how my podcasting partner and I developed a close relationship over the years because we used Google Meet and how this could help our recording sessions feel like we're in the same room together. I did ask Nartker if it's possible to use Starline in this capacity within the current age's bandwidth limitations. He assured me that Google had compressed it enough that it's not a taxing tech—at I/O, it worked on a Wi-Fi network where the rest of us struggled to log on with our smartphones and laptops.
Project Starline is being tested in Salesforce, WeWork, and T-Mobile's workplaces. It's still an enterprise-focused technology at the moment. But the idea of this coming to my household down the line excites me, if only because it means I can trick my brain into real human interaction without ever leaving my house. The introvert in me is extremely pleased. The next step is convincing bosses that this is the future of work: the ability to provide complete remote access to employees while allowing them the freedom to roam on their end.

At the very least, turning Starline from a two-way booth into a wall promises an adaptable future, but the question is still out on if the hologram style tech will be worth the extra wait and cost, or if people will simply be happy with big screens and camera tricks that make it easier to maintain eye contact.