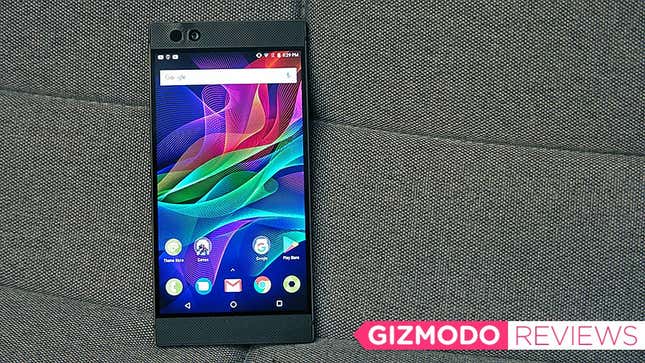 While its original mission was to make high-end gaming mice, Razer's line of products has grown over the years to include everything from keyboards and fitness bands to entire desktops, laptops, and pretty much anything else the company could put RGB lighting in. However, up until now, there was one glaring hole in Razer's otherwise comprehensive lineup: phones. After all, more people spend time playing Candy Crush and Clash of Clans than even the most popular AAA PC titles. The problem is that when a $200 Moto G5 can play Super Mario Run just as well as a $1000 iPhone X, WTF is a gaming phone even supposed to be?
Vizio's Latest TVs Go All Quantum
When you say "gaming phone," the first things that come to mind are devices like the deeply flawed Nokia N-Gage or the much less clunky, but still wrong Sony Xperia Play, which combined traditional smartphone design with a built-in controller. But even the best of these devices never delivered the mobile gaming experience people wanted. So for its first phone, Razer did something a bit sneaky and made a handset for phone nerds instead of your average gamer.
Now before you get all up in arms about me splitting hairs or asking what I'm talking about, think about it. Companies have tried making Game Boys crossed with mobile phones before to very little success. But by going after enthusiasts, Razer has a chance to stand out from the Apples, Samsungs, and LGs of the world, which are all making the same rounded, bezel-less pebbles with only very minor differences. On top of that, there's actually a ton of overlap between what hardcore phone nerds value in a phone and the kind of things gamers want. Strong performance? Definitely, the $700 Razer Phone has the same Snapdragon 835 chip every other high-end Android phone is packing, along with 8GB of RAM, twice what you get in a Galaxy S8. A great screen? Sure, the Razer Phone's display even features a refresh that goes up 120 Hz (more on that below). And then you top it all off with ridiculously loud speakers, a clean, but customizable take on Android thanks to Nova Launcher Prime (which is installed by default), and a large battery that provides the kind of longevity that even people who think all consoles are Nintendos can appreciate.
As for the rest of the phone, the Razer looks a lot like the Nextbit Robin, which the company acquired earlier this year and may have been the best looking phone of 2016. Razer supersized it with a burly aluminum body, boxy sides, and a big 5.7-inch screen. The result is something that has a dense, refreshingly brick-like feel. Even the bezels on top and bottom are big. But they aren't wasted space, because in addition to holding the 8-megapixel selfie cam and tiny notification light, they also hide some of the richest and most powerful speakers any company has ever put in a phone.
The Razer Phone actually sounds better than most small Bluetooth speakers and about as good as a Google Home or Amazon Echo. In fact, when I turned the volume up to max, it exposed the low quality audio in Clash Royale as it produced a myriad of crackles and pops, something I never heard when using other phones simply because they couldn't get loud enough. While listening to music with the EQ in the Dolby Atmos app set to the appropriate mode, the Razer Phone pumped out surprisingly rich tunes. Unlike pretty much every other phone, the Razer even has a bit of low-end kick, and it's one of the few handsets from which I occasionally prefer using the speakers to plugging in headphones. This is a good thing, because one of the few important features Razer didn't include on its handset is a headphone jack.
It's kind of a strange choice because even though Razer CEO Min-Liang Tan said that removing headphone jack made it possible to put in a bigger battery and improve thermal control for better performance., that still doesn't solve the problem of what I'm supposed to when I want to recharge the phone while playing a game with headphones plugged in.
As for battery life, the Razer Phone does quite well. Over the course of the week, I had no problem getting a full-day's use from the phone, even with multiple hours spent gaming. And in our battery rundown test, the Razer Phone lasted 9 hours and 19 minutes, which is 20 minutes longer than the standard Pixel 2 (8:59), but still behind the 10:21 mark set by the Galaxy Note 8. However, that test was run with its screen set to 90 Hz (which is how it comes out of the box), and higher than the 60 Hz you get from Samsung's device.
The Razer Phone is also the first phone to have Qualcomm's Quick Charge 4.0 tech, even though the feature was officially revealed almost a year ago. This lets the Razer Phone go from zero to 36 percent battery in just half an hour, which is better than the 30 percent refill I got from the Galaxy Note 8 in the same time. That's particularly impressive because the Razer Phone's 4,000 mAh battery is 20 percent larger than the 3,300 battery in the Note 8.

Then there's the Razer Phone's screen. Even though it's not the brightest display ever, topping out at around 350 nits, what it lacks in luminance it makes up for with its variable 120 Hz refresh rate. Everything looks silky smooth, even little stuff like swiping down to open the notification tray or swiping up to see the app drawer. I'll even admit that while testing the phone, I spent a good 10 minutes just flipping between pages on the home screen, mesmerized as app icons flowed fluidly across the display. The extra-high refresh rate also comes into play for gaming, because even though most apps are capped at 30 or 60 fps, Razer is working with developers like Nexon and Respawn to bring full 120 fps support to apps such as Titanfall Assault and others. And after spending a few minutes checking out the handful of apps that do take advantage of the tech, I found myself wishing every app could look this good.

But don't let my gushing be the only thing you hear because this phone is far from perfect. Aside from the lack of a headphone jack, my issues with the Razer phone come down to two small problems and one big one. First is the the side-mounted fingerprint reader. I like that it doesn't take up space on the front of the phone, but its flush design makes it difficult to find by feel and a bit finicky to actually press. On our review unit, I also noticed that the plastic adhesive grille covering the top speaker has started to bubble and peel away from phone, which has me questioning the device's durability.
But the potential dealbreaker is the camera. Even after the first firmware update which was supposed to improve photo quality, everything still looks soft. In essentially ideal lighting, when I did a side-by-side photo shootout between the Razer Phone and the Galaxy Note 8, I struggled to find the focus in the Razer Phone's pic. Meanwhile, the Note 8's photo looks crisp, has richer colors, and simply captures a more appetizing shot than the Razer Phone. In other pics, I also noticed that the Razer Phone's dynamic range fell behind that of the Note 8 too, which meant contrast was often lacking. Razer says that more updates are coming to help bolster camera performance, but currently, its dual 12-megapixel rear cameras just don't live up to the phone's $700 price tag.
Still, for its first foray into smartphones, the Razer Phone is a solid effort that zigs when every other phone is zagging. It's almost offensively angular, it packs a mountain of RAM, and it sports an LCD display after even Apple has switched to AMOLED. And to top it all off, the Razer Phone's 120 Hz display makes movies, games, and even the UI look smoother than any other phone on the market. It's not perfect, but there's a ton of potential, and even with the flaws on its first attempt, the Razer Phone deserves some credit for being delightfully different.
README
The 5.7-inch IGZO TrueMotion LCD display features a variable frame rate up to 120 hertz that makes everything look super smooth.

Razer's dual 12-MP rear cams are never as sharp as you'd like, especially considering its price.
The Razer Phone's stereo speakers might be the best, and loudest speakers on any phone ever.

No headphone jack, water-resistance or wireless charging, but you do get a huge 4,000 mAh battery and an included THX-certified USB-C DAC.

Only compatible with GSM carriers such as AT&T and T-Mobile

SPEC DUMP
Android 7.1.1 • Qualcomm Snapdragon 835 processor • 8GB of RAM • 64GB of storage • microSD card slot • 5.7-inch QHD IGZO LCD display with 120 Hz refresh rate • dual 12-MP rear cameras • 8-MP front camera • dual stereo speakers,802.11 a/b/g/n/ac wi-fi • Bluetooth 4.2 • Qualcomm Quick Charge 4.0 • 4,000 mAh battery • 6.24 x 3.06 x 0.31-inches • 6.94 ounces