The FDA just announced plans to rethink its definition of "healthy" food. So, what does that "healthy" label you're seeing right now mean? Not as much as you might think.

The FDA has been in a year-long scuffle with KIND granola bar makers over the company's insistence on sticking a "healthy" label its products. Now, although nothing has changed in the granola bars, the agency has given permission for the company to keep the word on its package. But in light of the controversy, the FDA says it will also "reevaluate regulations concerning nutrient content claims, generally, including the term 'healthy'."
Unlike "natural" food labels—which exist in a lawless, post-apocalyptic food wasteland where anything goes—the FDA established a pretty clear definition for "healthy" years ago. The current FDA definition for "healthy" insists, not unreasonably, that any food labeled as such must be within the bounds of FDA dietary recommendations for total fats, saturated fats, cholesterol, and other nutrients.

It was that definition that made the agency investigate KIND granola bars for their "healthy and tasty" label last spring. In an admirable show of restraint, the FDA left the tasty part to individual determination. The agency did, however, issue a devastating point-by-point take down of the KIND health claims, explaining that none of the company's products met minimal standards for being considered healthy.
G/O Media may get a commission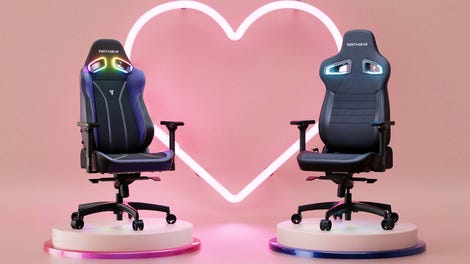 Up to $150 off
Vertagear Gaming Chairs
KIND has now managed to get around the warning by convincing the FDA that "healthy" is not meant to be a literal nutritional claim in this context but rather a "corporate philosophy." Essentially, it's being used as a slogan—just like other food companies have long used "natural." The difference is that "natural" was left open to food marketers, because it didn't have an FDA definition. The term "healthy" does.
The FDA's reevaluation of the definition could lead to stronger requirements that would keep "healthy" from going the way of "natural." There's already a move towards revamping "natural." The FDA just wrapped up a request for comments on what people believed the "natural" labels on their food meant this week, perhaps as a first move towards defining it. Now, the agency will launch a similar process of scrutiny over the definition of "healthy."
The agency revealed those plans in a statement:
Consumers want to make informed food choices and it is the FDA's responsibility to help them by ensuring labels provide accurate and reliable nutrition information. In light of evolving nutrition research, forthcoming Nutrition Facts Labeling final rules, and a citizen petition, we believe now is an opportune time to reevaluate regulations concerning nutrient content claims, generally, including the term "healthy." We plan to solicit public comment on these issues in the near future.
Just how far off that not-too-distant future remains is uncertain.
"There is no timeline right now," an FDA spokesperson told Gizmodo, stressing that any new definition would still lean heavily on the existing one. "We would not characterize this as a 'reversal' [of the agency's previous position]. The FDA expects companies to continue to meet the current requirements for nutrient content claims that include the term 'healthy.'"
For now, if the word "healthy" is written on the label of your snack, remember that it's not necessarily good for you.