The Clean Power Plan set a new standard for the U.S. response to climate change. It was supposed to reduce greenhouse gas emissions from fossil fuel-burning power plants and help the U.S. meet its Paris Agreement targets.
But it never had much chance under the climate change-denying Trump administration, and on Tuesday, Environmental Protection Agency Administrator Scott Pruitt signed a proposed rule to officially withdraw the regulation environmentalists have championed. This will be a long, drawn-out process that will require public comment, but the move will effectively keep the rule from going into action. Pruitt cited "the war on coal" in a speech to Kentucky coal miners Monday, but the Clean Power Plan is about more than energy—it's about clean air and public health.
Electricity-generating units—whether they burn coal, gas, or oil—release pollutants like sulfur dioxide and nitrogen oxides. Nitrogen oxides can create ozone, better known as smog, which can damage lung tissue. Sulfur dioxide can also pose respiratory risks. By lowering carbon emissions, the Clean Power Plan would, in turn, lower these dangerous pollutants, too. The goal was to reduce sulfur dioxide emissions by 90 percent, and nitrogen oxides by 72 percent by 2030.
Since the plan gives states the power to decide how to bring down these emissions, this pollution protection could look a number of different ways. Some states might decide to leave behind dirty power plants altogether and switch them out for renewable ones. Bye bye, pollution. Others might opt to retrofit current power plants to increase efficiency and use less coal. Hello, less pollution.
"When you reduce the use of fossil energy in order to reduce carbon, you get a lot of what are known as co-benefits," Janet McCabe, a senior law fellow at the Environmental Law and Policy Center who used to work at the federal agency and helped write the Clean Power Plan, told Earther.
G/O Media may get a commission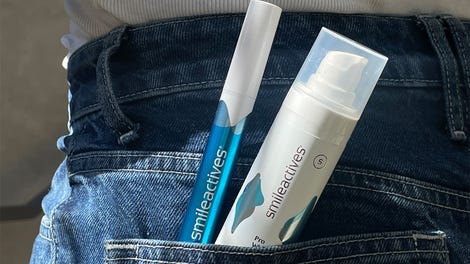 58% off
Whitening Powerhouse Pen & Gel Duo
These benefits include 3,600 fewer premature deaths and 90,000 fewer asthma attacks. That's what the EPA found back when it was all for the rule. McCabe said health impacts of reduced greenhouse gas emissions were the "motivating force" behind the Clean Power Plan.
Without its implementation, these numbers remain a pipedream—and communities of color will see the worst of it. For real.
Study after study has proven this. One of the latest came out of the University of Washington last month. It showed that, between 2000 and 2010, people of color saw roughly 40 percent higher exposures to air pollution than white people. And not just from power plants. Cars and trucks are guilty, too.
"The finding that shocks us is that when it comes to how much [nitrogen dioxide] a person breathes, it's still race that matters," said senior author Julian Marshall, professor of civil and environmental engineering, in a press release. "At any income level—low to medium to high—there's a persistent gap by race, which is completely indefensible. It says a lot about how segregated neighborhoods still are and how things are segregated."
Mark Mitchell, president of environmental health consulting firm Mitchell Environmental Health Associates, is already seeing these health impacts play out. He previously served on the EPA's National Environmental Justice Advisory Council, so he understands the realities communities of color face.
As a black physician, he was looking forward to how the Clean Power Plan would reduce the asthma he sees among his patients. In 2014, black people were almost three times more likely than white people to die from asthma, according to the Department of Health and Human Services' Office of Minority Health.
"We as African American physicians are particularly concerned because this is what we see," Mitchell told Earther. "We see this more often in our patients than other physicians do."
And asthma is just the tip of the iceberg. Climate change will keep thwarting frontline communities from living a healthy life. It already is. Health impacts include heat stress, cardiac disease, allergies, and vector-borne diseases. And, of course, emotional stress that accompanies this new reality. It's no wonder 18 national health and medical organizations, including the National Hispanic Medical Association and Children's Environmental Health Network, released a joint statement expressing their disappointment.
"What's more, while every American's health is threatened by climate change, certain groups of people–including children, seniors, low-income communities, and those living with a chronic disease like asthma–are especially vulnerable," the statement read.
This is what a future without the Clean Power Plan could look like. For many non-white families, they're already living it.
Update 10/13/17: An earlier version of this article implied that McCabe said the co-benefits of reduced pollution—3,600 fewer premature deaths and 90,000 fewer asthma attacks—were the motivating force behind the Clean Power Plan. She later clarified that health impacts in general were the motivating force. The text has been updated accordingly.