The Wall Street Journal is reporting that Google and Foxconn are working together to create a new vision of roboticized factories.
We already knew that Andy Rubin, head of Google's fast-growing robotics wing, is interested in the future of manufacturing and retailing automation. But the Journal reports that he recently met with Foxconn CEO Terry Gou "to speed up deployment" of Google's grand plans within the Taiwanese company's factories.
While there's much speculation about what Google intends to do with its new robot army, this report suggests factories are high on the list. Those "people familiar with the matter" told the paper that Foxconn has been "working with former Android executive Andy Rubin since last year to carry out the U.S. company's vision for robotics."
G/O Media may get a commission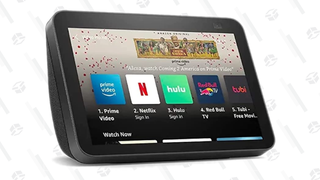 Apparently Gou—in charge of one of the biggest electronics manufacturers on the planet—"expressed excitement" at the meeting which is probably because, as the Journal points out, he's keen to counter rising wage costs. To that end, the report suggests that Rubin and his team are hoping to replace manual labor for intricate tasks like electronics assembly, as well as providing "a new robotic operating system for manufacturers, just like the Android operating system for mobile computing devices."
Along with some lofty aims of automating retail to compete with companies like Amazon, it all sounds like Google has grand plans for the humble old factory and warehouse. But what we want to know is, where the hell will Boston Dynamics fit in? [Wall Street Journal]
Image by AP