Since Hitachi's press conference at CES, we've been anxious to get some time with the company's Hybrid DVD/HDD camcorder. It's the world's first camcorder to record both to a hard drive (8GB) and DVD-R (30min), and from what we understand "world's firsts" are very important things.
Deadly Mississippi Tornado Kills More Than 2 Dozen | Extreme Earth
After spending a few hours playing with the Hybrid, we have a verdict: it may live up to its promises, but it certainly doesn't meet our assumptions. Hit the jump for the full story.


G/O Media may get a commission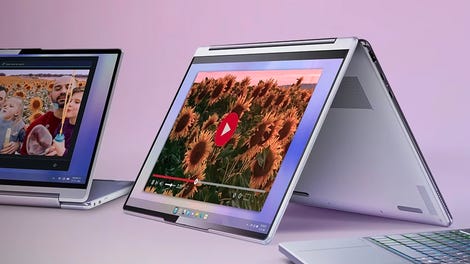 up to 70% off
Lenovo Spring Clearance
General Handling

The Hybrid fits perfectly in your hand, with the DVD drive serving as an excellent grip. Swapping between recording modes is as simple as turning a dial and waiting anywhere from 5-15 seconds, depending on whether or not the function has been used since turning on the cam. The 2.7" screen is bright, sharp and colorful, with the option to turn all white and serve as a light in dark shooting environments.
Sure the lens barrel is a cheap plastic, but the entire package as a lot more solid that the demo unit we held at CES.
The DVD/HDD/SD Advantage?

Aside from all other points, the main premise of the Hybrid is that one can shoot multiple formats and transfer between them with ease. For instance, your family is enjoying your daughter's first dance recital. Grandma flew in from out of town, but needs to leave right after the show to take her medicine or something. If you shot the recital to the hard drive mode, within a few seconds you can begin dubbing that recital to a 30-minute DVD. (If you remembered the AC plug).


That part works (though it took me about 8 minutes to burn 8 minutes of video on the 1x DVD drive). The tricky part is when you shoot your daughter's dance recital with the DVD mode. You can just back up the MPEG2 file to your camcorder's 8GB hard drive, right? Nope.
You also can't back up video to the SD card from either the hard drive or the DVD. But don't forget to pack that SD card anyway, because you can't take photos without it, despite having two other storage methods built in.
Picture Quality




While the 16:9 ratio makes for footage that's happy on my TV, the video is subpar at best. For the most part, colors appeared washed out, with springtime purples muddied to make us crave winter. The best moment was from one of our vibrant yellow tulips, but even within acceptable exposure levels, texture detail from the pedals was lost almost completely.
Most of the blame falls on bad MPEG2 encoding. Slowly panning a flowering bush became a smear of pixels, and my dvd collection tended to ghost before I hit the horror section. Yeah, that joke was horrible, but I'm leaving it in.
But considering the Hybrid will only run you $450 at most retailers, the image quality falls within the designations of its price range. Still, dubbing DVDs is just salt in the wound when the picture isn't all that great to begin with.
Sound Quality

Audio playback was surprisingly clear at mid to high ranges. Low ranges, such as background traffic, were emphasized a bit too much. Camcorders never have great mics and the Hybrid's could be a lot worse, so this one should suit most users.



Bundled Software




The bundled software is all but unusable—so bad that it's not worth expounding upon. And unfortunately you need something to grab those MPEG2 files from the camera since it mounts as a DVD onto your desktop (even if you are in the hard drive mode). I ditched their software and ripped footage through MPEG Streamclip, which is really a fantastic piece of freeware for those who need to edit DVD content.



Conclusions

Despite its limitations of sharing footage between recording methods, the Hitachi Hybrid is a decent solution for those looking to make in-camera DVD dubs. Plus, one can edit their clips, group together playlists and even add some limited transitions without ever leaving the comfort of a their LCD.
Despite having absolutely no use or need for a DVD camcorder, I do appreciate the idea of a multi-format camera. Unfortunately, the Hyrbrid is not the multi-format wonder device it could so easily be. For $1000, this would unquestionably be a pass. But since it retails for $599 and runs $450 or so at most online retailers, the Hitachi Hyrbrid DVD/HDD Camcorder might be worth a look if you are a movie theater bootlegger or very proud soccer mom.
DZHS300A Specs

$599

680K CCD

25x Optical Zoom

8 GB HDD, DVD-R/-RAM/-RW/+RW, SD Memory Card

Recording Time: 3 Hours Fine/6 Hours standard

DVD: 1x Dubbing

Display: 2.7" 16:9