There are few films out there that have had as much an impact on the movie-going public as E.T.: The Extra-Terrestrial. On Wednesday, Melissa Mathison, who authored the screenplay passed away at the age of 65 due to complications from cancer.
Mathison got her start as a screenwriter when she was encouraged by Francis Ford Coppola to help write the script for 1979's The Black Stallion. Her work on this film helped to bring her to the attention of Steven Spielberg, who met her while he was filming Indiana Jones and the Raiders of the Lost Ark. The Black Stallion was one of Spielberg's favorites, and he asked her to help him write a film that he'd been wanting to write for a while.
Spielberg had long wanted to write a film about a boy and an alien, dating back to his childhood, when he had created an imaginary friend to help him cope with his parent's divorce. He'd intended to direct the movie in 1978 (titled Growing Up), only to have it delayed while he directed 1941. Later, the concept reemerged while he was contemplating a followup to Close Encounters of the Third Kind, with a much darker tone.
Mathison was on the set of Raiders of the Lost Ark in Tunisia while visiting her boyfriend, Harrison Ford. In an interview with the New York Times, he recounted how he tried to convince her to help him write his long-desired story:
"It was 120 degrees, and everybody was miserable and looking to finish that part of the film. When I found out she was the one who wrote 'The Black Stallion,' I immediately thought she'd be right to write this story I'd been kicking around for years. So between shots we'd take long walks and I'd try to convince her to write 'E.T.', and she tried to convince me she wasn't the right writer for it."
G/O Media may get a commission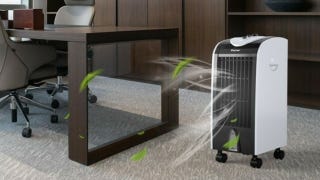 Save $10
Evaporative Portable Air Conditioner Cooler with Filter Knob
Mathison was eventually convinced, and wrote the screenplay for E.T. and Me in eight weeks, with input from Spielberg. After the release of the movie (now titled E.T.: The Extra-Terrestrial) she was nominated for an Academy Award for her work. (She lost to Gandhi screenwriter John Briley).
Mathison went on to write movies such as The Escape Artist (1982), Son of the Morning Star (1991), The Indian in the Cupboard (1995), Kundun (1997), and was actively at work on Spielberg's The BFG, which is slated to come out next year.
Mathison created one of Hollywood's most iconic films, containing such well known lines as "ET phone home," but her work should be remembered for her portrayal of children. Speaking with the LA Times in 1995, she noted that she wasn't happy with how children were portrayed on the big screen:
"I go to movies with my children and see fat kids burping, parents portrayed as total morons, and kids being mean and materialistic, and I feel it's really slim pickin's out there. There's a little dribble of a moral tacked on, but the story is not about that."
Her movies, especially E.T., demonstrated a deeper understanding of how children thought and acted, and was a screenwriter who understood just how a story worked for audiences. E.T.'s lasting influence and popularity is certainly proof of that.
Image Credit: Getty Images