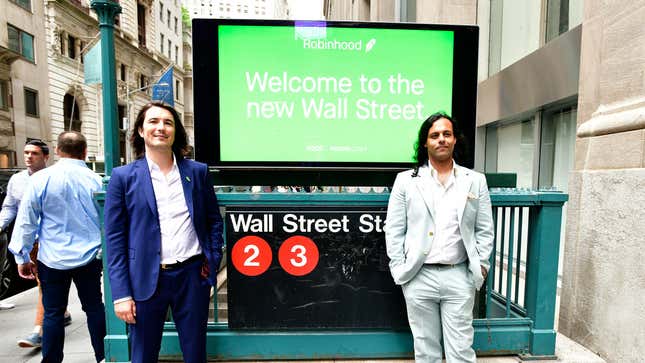 Stock trading app Robinhood wants to edge out the behemoth that is the New York Stock exchange. Rather than eating from the same dish of its own personal sheriff of Nottingham, the app that was once the darling of the WallStreetBets crowd is hoping its always-on audience might appreciate the ability to buy and sell stocks at every hour of the day.
Robinhood App Lays Off 9% of Staff
The company proclaimed it was working on 24-hour trading for certain stocks in its latest quarterly financial report released Wednesday. Vlad Tenev, the Robinhood CEO, told investors that this service would launch "next week," while quarterly filings revealed the service would start with more than 40 "well-known" stocks and exchange-traded funds. According to a new report from the Wall Street Journal, trading would open perpetually from 8 p.m. ET Sunday and 8 p.m. ET Friday. Some of these big stocks include the likes of Amazon, Apple, and Tesla.
Tenev told WSJ that the company will add more stocks to its always-on service over time, adding that this 24-hour trading "is how the market should work" since it won't be tied to a single time zone and its working hours. While there are some other services that allow for limited early morning trading of ETFs, this would be one of the first firms to allow overnight trading of big-name stocks.
Per the Journal, all trades after 8 p.m. ET will be sent to trading platform Blue Ocean, then through a number of firms trying to profit off of stocks. Though there will certainly be a number of late-night, bleary-eyed, stock-obsessed folks punching in numbers like a gambler at a slot machine, it will still be hard to topple the might of Wall Street. In its latest quarterly financial report, the company did say it experienced a bump in monthly active users to about 11.8 million. The company had experienced a long decline in users since highs of 21.3 million in the middle of 2021. The NYSE claims it had a daily volume of 38.3 million contracts in 2022.
The company is also hoping it can add futures trading by the end of the year, pending approval of a Futures Commission Merchant License, something which one Redditor on the r/WallStreetBets said was like "trusting a toddler with napalm." Though the memestock crowd is overall excited by the prospect of 24/5 trading. It might be enough to drag back some traders still angry over how Robinhood halted trades of volatile meme stocks during the original GameStop short craze.
Robinhood's ambitions may be hampered by ongoing regulatory scrutiny. Bloomberg first reported based on the company's filings that the U.S. Securities and Exchange Commission is delving into the company's recordkeeping requirements, which supposedly involved "off-channel communications." The enforcement arm of the SEC is also investigating whether Robinhood kept to the book when reporting trades related to securities.
The SEC's investigation could be similar to last year when bankers got hit for illegally communicating in private channels on apps like WhatsApp. Gizmodo reached out to the SEC for comment on the investigation and a spokesperson told us the agency "does not comment on the existence or nonexistence of a possible investigation." The company already had to pay $30 million to the New York Department of Financial Services last year over allegations it failed to maintain compliant cybersecurity.
After it took hits from hackers, customers, politicians, and regulators, Robinhood had a bad 2022 resulting in layoffs and declines in revenue. The company reported Wednesday its revenue was up 47% from the same time last year, though it still experienced losses for the seventh consecutive quarter.