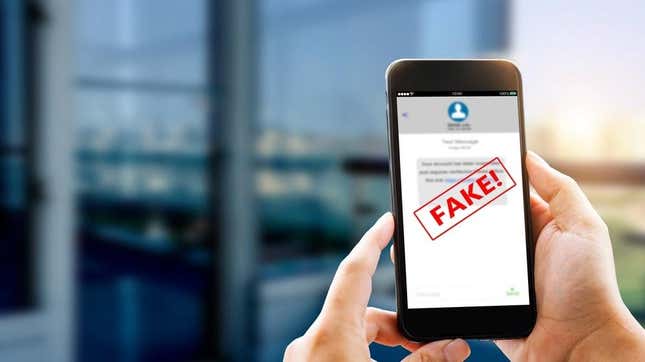 The Federal Communications Commission (FCC) confirmed it is implementing rules against scam texting, becoming the first rule of its kind to combat an influx of targeted spam texts in recent years. Robotic text messages are "highly likely to be illegal," the FCC said in a press release and confirmed that under the new rules, mobile service providers will be required to block robotext messages.
Robotexts can be identified if they come from invalid, unallocated, or unused numbers and includes numbers that are identified by government agencies as "not used for texting," the FCC reported. The FCC also proposed that carriers put flagged numbers under a Do-Not-Call Registry that would protect consumers from companies sending their information to hundreds, if not thousands, of marketers stemming from a single consent form. This presents a loophole in the Telephone Consumer Protection Act's limits which was intended to protect consumers from unwanted text scams.
"These robotexts are making a mess of our phones," FCC Chairwoman Jessica Rosenworcel said in an emailed statement to Gizmodo. "They are reducing trust in a powerful way to communicate." The new rules received support from the Attorneys General from all 50 states and the District of Columbia, but Rosenworcel said, "We are not stopping here. Because we also adopt a rulemaking to explore other ways to stop unwanted text messages, including authentication measures and rules to prevent the abuse of consumer consent.
The FCC reported from 2015 to 2022 the number of scam texting complaints rose from 3,300 to 18,900 per year and recent reports show a direct correlation between the increasing numbers of scams and a rise in financial losses for Americans. A 2022 FBI crime report revealed consumers were robbed of more than $10 billion last year alone, resulting in part from robotexts and calls as well as spam emails and ransomware attacks.
Rosenworcel said, "Scam artists have found that sending us messages about a package you never ordered or a payment that never went through along with a link to a shady website is a quick and easy way to get us to engage on our devices and fall prey to fraud."
An FCC spokesperson told Gizmodo that the FCC's new rule will take effect six months after the Federal Register publishes the approval under the Paperwork Reduction Act.
While consumers wait for the new rules to take effect, the FCC recommends in its press release to take steps to "protect themselves from text scams."
The FCC directs consumers to "not interact in any way with suspicious texts, click on suspicious links, or provide any information via text or website." If a consumer has received a scam text message, in addition to deleting it, they should forward it to SPAM (7726) and can file a complaint on the FCC website.
Updated: 11:55 a.m. to include a comment from the FCC.