The biggest news week of the year in gadgets is now over. Here's a full guide to our coverage of both Macworld and CES 2009 with everything you need to know.
If we learned one thing this last week, it's that neither one had enough news to live up to its previous reputations as king of the gadget shows, which is especially clear when you take it all in at once. Click each image for the full post, and for all the coverage from each, see our tag pages: Macworld 2009, CES 2009
Macworld 2009:
iLife 2009: Everything got touched, from facial recognition in iPhoto to piano lessons from Sting in Garage Band.

G/O Media may get a commission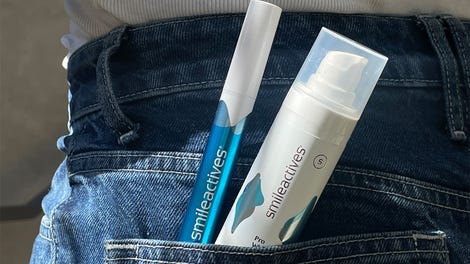 58% off
Whitening Powerhouse Pen & Gel Duo
17-inch MacBook Pro: It got its expected Unibody makeover, complete with a long-lasting and non-removeable battery; here's how it works.

iTunes dropped DRM for good (but with a revamped pricing structure), and now allows iPhones to download tracks over 3G and EDGE. which we immediately tested.

The final Macworld keynote was without Steve Jobs; We were there to liveblog the hell out of it, of course, and you can watch Apple's broadcast of it here.

CES 2009 Day One Top Ten:

If we told you three months ago that Palm would own CES, would you have believed us? Find out how Palm did it in our full hands-on.

Samsung BD-4600 Blu-ray Player: Wall-mountable, networked, 1.5-inches thick, and really, really nice looking.

Samsung Luxia LED TV Lineup: Samsung loosed a whole series of ultra-thin, LED-backlit, network-connected LCDs, winning the Battle of the TV Announcements hands down. We got a close look in photos.

Vizio Connected HDTVs: These Vizios stream just about everything possible over wireless-N: Amazon, Blockbuster and Netflix VOD, Pandora and more.

Sony Vaio P: Sony's Vaio P is something we haven't seen before: a 2.08:1 aspect ratio (1600x768) on a 1-inch thick portable. Something different in the very, very generic netbook field.

Casio 1,000fps Point and Shoot Cameras: Both the EX-FC100 and the EX-FS10 bring the EX-F1's slo-mo capture goodness to a point and shoot. Casio's still the only folks in the super slo-mo field, and they're continuing to kill.

LG's GD910 Watch Phone: It was a non-working, behind-the-glass prototype last year, but one of every gadget head's boyish dreams will come true later this year: A watch that's a phone.

Eee Keyboard: Asus took the crazy cake with their still-shadowy home theater keyboard. With an onboard processor (of some kind), a touchscreen and keyboard and wireless HDMI, it makes perfect sense as a unique home-theater machine.

Sony Cyber-shot G3: We're all about putting web browsers on as many things as possible, and Sony's found another way to get one into our pants: A super-slim wi-fi-equipped Cyber-shot G3 that's the world's first to surf the web.

Panasonic Portable Blu-ray Player: Panasonic's DMP-B15 is the world's first portable Blu-ray deck. Your laptop probably doesn't have a BD drive, but this will ensure you can watch hi-def 1080p on a tiny, tiny screen on your next flight.

And there you have it. Good stuff you may or may not be able to afford in '09? Disappointment of disappointments? Discuss.
CES 2009 Day Two: The Best Of The Rest
FyreTV Porn Streamer: A quick jump over to AVN yielded juicy fruit: Jason "Roku What?" Chen's favorite porno streamer now does it without wires. Discerning adult cinema fans need their AV center CLEAN and CLUTTER FREE.

HDi Dune Blu-ray Players With BitTorrent : Toss your torrents into this Blu-ray deck's client over the network, then play back your pirated catch with its crazy extensive codec support. Brilliant.

The Hunter Concert Breeze Ceiling Fan Experience: Speakers + ceiling fan. Sometimes, a headline says it all.

Dell Mini 10: A 720p screen and a TV tuner is a nice bump for one of our favorite netbook series.

Cell Mate Hands-Free Cellphone Holder: Bluetooth is for the moneyed d-bag elite; real mobile gangstas clamp their iPhones to their heads.

For our full coverage of each event, see our CES 2009 and Macworld 2009 tagpages.